Mercy Clayton-Clarkson Building - Virtual Tour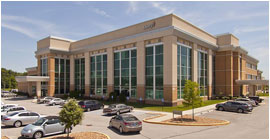 Welcome to Mercy Clayton-Clarkson! This contemporary medical building combines convenience and comfort for patients and their families. Take the virtual tour and see for yourself. Follow the instructions below to begin.

Mercy Clayton-Clarkson Building
Located at the corner of Clayton and Clarkson Roads in West St. Louis County, Mercy Clayton-Clarkson is a one-stop health care facility, offering physician and hospital-based services. You'll find doctors' offices, an outpatient surgery center, lab and pharmacy. For your convenience, there's also a gift shop, café and plenty of free parking.

West Entrance Lobby
When you arrive, stop by the registration desk just inside the lobby. Our representative will welcome you, confirm your personal and insurance information, and direct you to the location of your scheduled procedure, whether that's surgery, imaging, lab work, a mammogram, cancer treatment, or heart and vascular service.
Additional Information Related To This Image:
---
Wellness Shoppe
From physician-recommended health products to fashionable clothing and accessories, there's plenty to discover in this chic little boutique. Find a gift for a friend or that "just what the doctor ordered" item for yourself.
---

Radiation Oncology
Cancer patients get special care at Mercy Clayton-Clarkson. Our oncologists and radiation oncology team work together to develop the most effective treatment plan for your specific type of cancer. Our linear accelerator (shown here) targets cancer cells while sparing surrounding healthy tissue. We even offer specialized care for left-sided breast cancer to prevent radiation exposure to the heart.
Additional Information Related To This Image:

Mercy Mocha and More Café
In a hurry to grab a cup of coffee or a bite to eat? Avoid making a second stop and visit our Mercy Mocha and More Café for a drink, breakfast, snack or lunch. The café is on the first floor near the elevators.
Additional Information Related To This Image:
---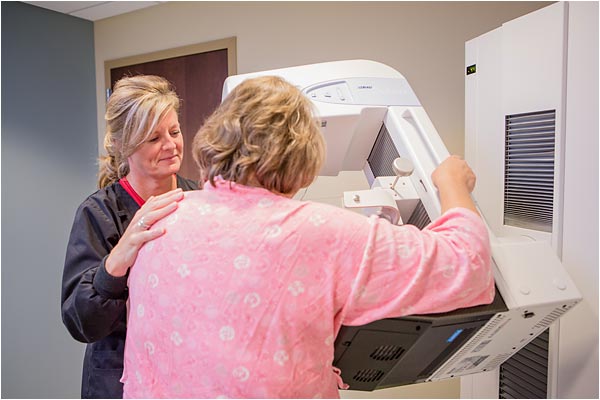 Mercy Breast Center
Our team uses the latest technologies to diagnose and treat breast diseases, including breast cancer. We offer mammograms, 3-D breast ultrasound and no-incision biopsies. We care for your well-being, too, through cancer education and support services.
---
---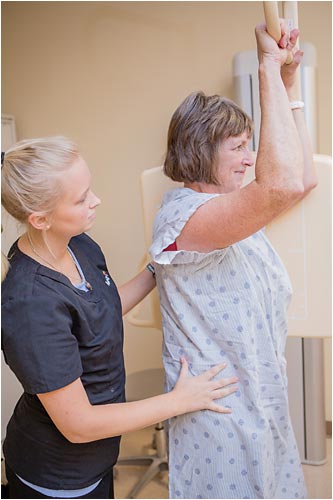 Mercy Imaging Center
Need an X-ray, MRI or CT scan? A bone density test or ultrasound? We offer it all right here - so you can get an accurate diagnosis and treatment plan to put you on the fast track to recovery.
---

Mercy Clinic St. Louis Cancer and Breast Institute
No one should face a cancer diagnosis alone. At Mercy Clinic St. Louis Cancer and Breast Institute, we'll help you through every stage – from diagnosis and treatment to healing, recovery and survivorship. Our board-certified surgical oncologists meet with referred patients one-on-one, and when needed, perform surgery in the outpatient surgery center located on the second floor.

Medical Oncology
Medical oncologists are doctors who treat cancer using medicines, such as chemotherapy, hormones and pain reducers. Our board-certified medical oncologists and surgical oncologists work together to plan the most effective treatment options for you. If you need chemotherapy, your medical oncologist will oversee your treatments in the Infusion Center next door.

Infusion Center
When treatment requires therapy through an I.V., you may be referred to Mercy's Infusion Center. Here, you'll receive chemotherapy, blood products or other medications as prescribed by your doctor – all in an atmosphere designed for your comfort.
Additional Information Related To This Image:

2nd Floor Balcony
Take the elevators to the second floor to find the outpatient surgery center, integrative medicine gym, cardiology and vascular services. Other specialties here include OB/GYN, plastic surgery, gastroenterology and orthopedic surgery.

See the Building Directory
Additional Information Related To This Image:

Outpatient Surgery Center
At the Mercy Outpatient Surgery Center, doctors perform general and specialty procedures, including breast, gynecology, orthopedic, podiatry, GI and plastic surgeries. Patients may stay up to 23 hours following surgery, if needed. The center, which features four operating rooms, seven pre-op beds and nine post-op beds, is licensed by the state and accredited by The Joint Commission.

Heart and Vascular Services
This comfortable, shared space is your first stop for an appointment with Integrative Medicine, Nuclear Medicine or Mercy Diagnostic Cardiology and Vascular Services. Our heart and vascular office conducts noninvasive cardiac testing – stress tests, echocardiograms, Holter and event monitoring – as well as vascular and arterial blood flow studies.

Mercy Integrative Medicine Gym
Integrative medicine includes many different types of therapy and exercise classes to help you achieve your wellness goals. In our Integrative Medicine Gym, patients get the physical therapy they need to bounce back after injury or illness.
Additional Information Related To This Image:

East Entrance Lobby
Use the East entrance for quick, convenient access to the pharmacy and lab. If you're scheduled for a procedure, stop by the registration desk to confirm your information. Our representative will direct you to the appropriate location.
Additional Information Related To This Image:
---
One-Stop Convenience
Leaving the doctor's office with a prescription or an order for lab work? No need to go anywhere else! Get the medicine or test your doctor ordered at our full-service pharmacy or walk-in lab, both located on the first floor.
---
Link back to Mercy Clayton-Clarkson Building