Alumni Quad
The Alumni Quad is at the heart of Woodbury's beautiful, 22-acre campus in Burbank. Grassy and shaded by trees, the Quad is where many campus events take place throughout the year in the beautiful Southern California weather. Its central location also makes it an ideal meeting place for students, faculty and visitors on campus.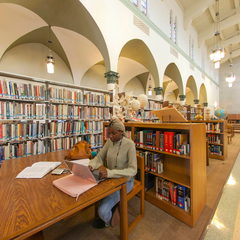 Los Angeles Times Library
Built in 1950 and originally used as the chapel for the Villa Cabrini Academy, the Los Angeles Times Library retains its unique architectural charm and is one of the most distinctive buildings on campus. The library's growing collection includes approximately 65,000 books, 3,000 films, 200 current print periodical subscriptions, and access to 46 research databases.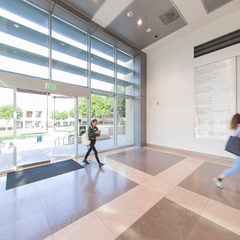 School of Business Atrium
The School of Business is the oldest school at Woodbury, dating back to the university's founding in 1884. It is one of the oldest business schools in the western United States. The School of Business holds AACSB accreditation, which is granted to less than five percent of all business programs worldwide. The Atrium of this modern building hosts events and includes a live stock ticker and other information.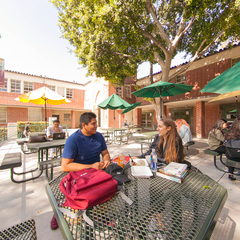 Woody's
Woody's, operated by Bon Appetit, provides students, faculty and staff with sustainable, locally-grown and organic food options. With a continuously changing menu, Woody's offers a variety of meal plans for students. With both inside and outside seating, Woody's is a hub of campus activity.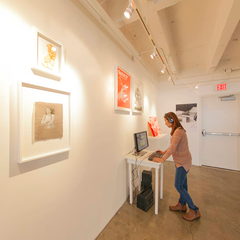 Nan Rae Gallery
The Nan Rae Gallery, one of several galleries on the Woodbury campus (including the Powell Gallery in the Design Center and the Wedge Gallery in the School of Architecture complex) is home to a variety of exciting exhibits throughout the year.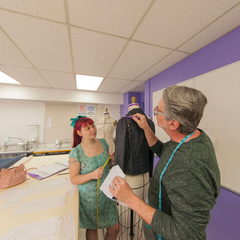 Fashion Design Studio
Cabrini Hall/Judith Tamkin Fashion Center includes several Fashion Design Studios like this one where students have the opportunity to gain hands-on experience. The building also houses a collection of vintage clothing dating back to the nineteenth century.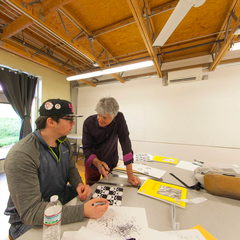 Graphic Design Studio
Woodbury has several design studios dedicated to graphic design, animation and other disciplines where students get hands-on and personalized instruction, as well as excellent practical experience, in a variety of artistic and design-based majors.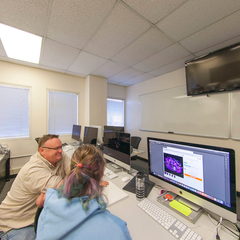 Computer Lab
A variety of Mac and PC-based computer labs exist throughout all four schools as well as in other locations throughout the Woodbury campus community. They also serve as classrooms for a variety of majors, including Applied Computer Science, Animation, Architecture and more.
Architecture Studio
<b>The Naidorf Hall Studios</b> within the School of Architecture include individual student workstations and shared critique spaces. The studios are normally used for third year students, and they can double as collaboration or gallery areas. The studios, which are available to students 24 hours a day, every day, open up to an interior courtyard that showcases full-scale student mock-ups and prototypes.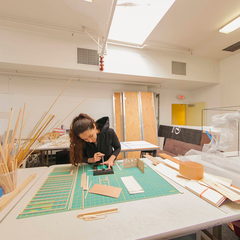 Interior Architecture Studio
The interior architecture studios are located in <b>Powell Gallery</b> and the <b>Design Center</b>. These studios allow students to have their own desk with space to experiment and build. The studios are open 24/7 to all Interior Architecture students, and they provide space for critique and group collaboration.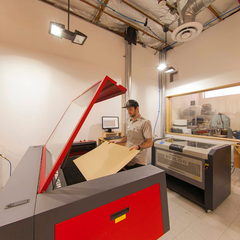 Digital Fabrication Lab
The Digital Fabrication Lab (DFL) houses a large collection of automated prototyping tools, with multiple laser cutters, 3D printers and CNC Routers, the DFL offers students the resources to explore concepts of scale, materials and assembly.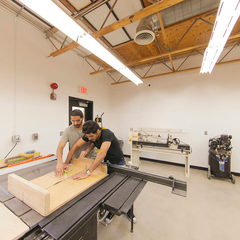 Wood Lab
Design projects may start in the sketchbook but they quite often get realized in our Making Complex. The Wood Lab is the center of this facility. It is a place to work through the physical implementation of design.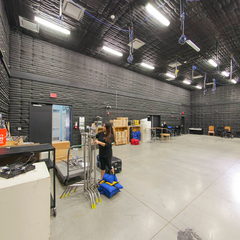 Sound Stage
The Filmmaking major is part of the School of Media, Culture & Design at Woodbury University. Being surrounded by major film studios like Disney and Warner Bros. has its advantages. This 4,000 square foot Sound Stage offers a variety of settings and opportunities for film students to learn their craft. Students can also borrow a wide range of filmmaking equipment.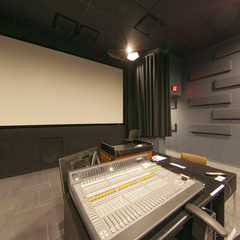 Screening Room
The Screening Room, along with the Sound Stage, are part of Woodbury's Entertainment Media complex. The Screening Room offers a state-of-the-art facility for filmmaking students (and others) to screen films and projects.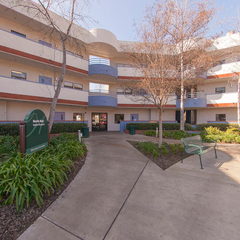 North Hall Exterior
Woodbury has two complexes to house students: North Hall and South Hall. North Hall is a three-story, air-conditioned complex separated into 11 community sections. Each section houses up to 15 students, who share a community kitchen and bathroom. North Hall also has a common central lounge, drink and snack machines, and laundry facilities.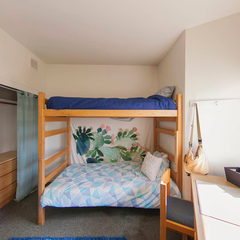 North Hall Room
Woodbury provides student housing options that fit a variety of budgets and living preferences. Housing options include singles, doubles, triples and quads. All are fully furnished.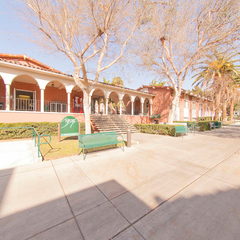 South Hall Exterior
South Hall is a traditional single-story, coed student residence built around a courtyard in the center of the campus. Rooms are not air-conditioned but are equipped with ceiling fans. Separate community bathrooms are conveniently located in the male and female hallways. South Hall is equipped with laundry facilities, drink and snack machines, and a common kitchen. South Hall is also home to the Fitness Center.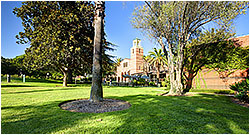 < CLICK AND DRAG TO ROTATE 360° IMAGES >
Find and click hotspots like these inside the 360° images
and in the toolbar in upper left for more information and functionality: