The Wesleyan - Independent Living - Virtual Tour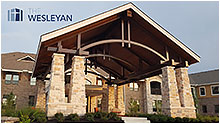 Welcome to our virtual tour of The Wesleyan Independent Living. Much like your future lifestyle at The Wesleyan, this virtual tour invites you to choose how you want to engage. Click on "Return to Tour" to access the thumbnail photos and explore featured areas in the order you choose. 



When you are ready, we also would love to schedule an in-person tour as well. We hope you will discover our independent living lifestyle offers the same freedom of choice you've always enjoyed in a beautiful setting and amid an amazing network of neighbors.

East Lobby
Our two lobby entrances are bustling hubs of activity where you can welcome guests, meet up with friends and have access to a teammate on duty 24/7.

Ames Art Studio
Whether you are a beginner discovering a new hobby or a seasoned artist honing your technique, enjoy our brightly lit art studio for creative endeavors.

1105 Bistro
Variety is the spice of life and our 1105 Bistro offers a tasty menu of freshly prepared items daily as an alternative to our dining rooms. Grab and go or sit and visit.
Additional Information Related To This Image:
---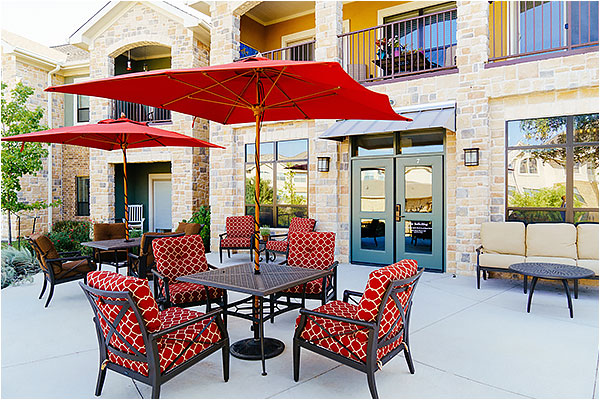 The Bistro Patio
---

Bluebonnet Salon
We have two on-site salons that offer opportunities for you to be pampered. Schedule an appointment and treat yourself to a haircut, a fresh style, a manicure or another service on our salon menu.

Bonner Fitness Center
Ready to improve your strength, endurance and balance? Our wellness program offers a variety of exercise classes that meet needs of residents at any fitness level. Keep active and fit with our state-of-the-art equipment and instruction.

Cactus Den
The Cactus Den is a casual living space enjoyed by all. Gather a group of friends for a card game, watch your favorite sport on TV or chat with a friend over a game of pool in this cozy room that feels like home.

Wendland Chapel
This reverent space offers the serenity of stained glass, warm wooden beams and changing light. Centered between the East and West Buildings, the Chapel provides gathering space for worship, Bible and book studies, meditation and prayer. Make it a sacred stop on your spiritual journey.

North Fork Dining Room
Simply come in and enjoy freshly prepared meals in our open, warm and inviting dining rooms. Our amazing dining staff does the cooking and cleaning for you.
Additional Information Related To This Image:

Guest Room
Family or friends in town for a visit? Guests rooms conveniently located in our buildings are available for rent. Call the front desk to reserve.

Guest Room Bath
Family or friends in town for a visit? Guests rooms conveniently located in our buildings are available for rent. Call the front desk to reserve.

Hewlett Community Room
Our Hewlett Community Room is central to abundant life at The Wesleyan. This spacious and gracious room serves as the gathering space for the lectures, concerts, special events and celebrations that shape daily life.
Additional Information Related To This Image:
---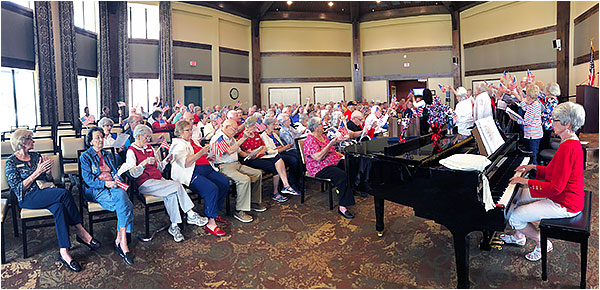 Fourth of July Celebration
---

Morton King Library
Classics, tales of fiction, historical biographies … your reading adventures start here! Find a book to curl up with at one of the two resident-run libraries in Independent Living.

Movie Theatre
Take a break and enjoy one of the variety of movies showing in our theater throughout the week. Reminisce over a classic or stay current with a new release. Do you smell popcorn?

Pond and Dr. Eunice Blair Walking Trail
Whether you are out for exercise or just a leisurely stroll, the paved walking trail that winds around our campus offers you a chance to enjoy fresh air, beautiful trees and wildlife right outside your door.

Pool
Take a dip in our heated salt-water pool for exercise or relaxation. We offer water aerobics classes throughout the year, weather permitting, of course.

The Dean Hamilton Prayer Garden
Breathe in the peaceful beauty of our prayer garden located just outside The Wendland Chapel. In the center of the garden stands the "Good Shepherd," a bronze sculpture designed by Central Texas artist Joe Kenney.

Private Dining Room
Host family and friends for a meal, a bridge game or a small celebration in one of our two private dining rooms. Take advantage of in-house catering to make your gathering extra special.

Putting Green
Step out on our beautiful putting green to sharpen your skills or to enter into a friendly competition with our resident putters.
Link back to The Wesleyan - Independent Living