Upstate University - Ophthalmology - Virtual Tour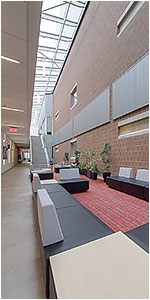 Welcome to SUNY Upstate Syracuse Department of Ophthalmology and Visual Sciences. Getting a feel for a program and institution can be difficult. Although we'd rather you visit and see for yourself, this virtual tour is the next best thing! Select the space you wish to see and either click the arrows or drag with your touch screen to view the space. At the top right corner, you can select the text box to read more about each area.

Resident Office
Recently completely renovated, there are stations for all 9 residents. There is now a mounted large panel display connected to a mini-Dell computer to allow for entertainment, lectures, video conferencing and, in the future, a clinic status board. Additional amenities include a water dispenser, refrigerator and Keurig coffee machine.

Suite L Conference Room
Brand new. Recently installed AV equipment to broadcast Grand Rounds.  This serves as the typical meeting and lecture area for residency and departmental activities.

Suite L Exam Room
The standard "eye lane" in a beautiful new clinic. Each room has a slit lamp, video eye chart, phoropter, indirect, etc. As we have renovated, the residents were actively involved in organizing the rooms equipment, supplies, and forms. Note each computer has 2 monitors to allow simultaneous use of the EMR and the image management system and a microphone for Dragon Dictation.

Suite L Photo Room
The 550 Harrison clinic has capability for widefield angiography and photography. The cameras excel at clearly capturing pathology that is difficult to name. Attention was made to placing the ancillary testing to better facilitate patient flow.

Suite L Laser Room
Witness the beauty of the Tango Laser - our brand new combination SLT/Yag platform. In addition we have an Argon laser with indirect laser and cryo for those hard to reach retinal tears.

OR 550
Located right across the hall from the 550 Harrison Eye Clinic so you'll never be late, the ORs at 550 Harrison generates approximately 50% of the residency surgical volume. The residents operate on Centurion Phaco machines or Constellation Retina machines while looking through new Leica Proveo 8 microscopes. The OR is fully equipped for cataract, glaucoma, cornea, retina, pediatric, and oculoplastics cases with the staff focused on resident training.

VA Eye Room
Each resident is assigned a fully equipped lane to call home for their rotation. This allows location customization of patient handouts, personal notes, minor tools, and eyedrops to optimize patient flow and resident wellness. The VA has specialty clinics in retina, glaucoma, oculoplastics and cornea. Approximately 50% of resident-performed elective surgery is performed here with emphasis on Toric Lens and limbal-relaxing incisions.

Wet Lab
We moved to this great space in 2018. It contains 3 fully operational phaco stations. There is a computer with wall-mounted display to access the EMR, watch surgical videos, and access other educational materials. Additional amenities include a fridge, monthly resupply of pig eyes, Kitaro kit, and supply of surgical instruments. In short, it has everything needed to help the pig eye achieve pseudophakia with an optional corneal transplant. All this while you listen to the latest Taylor Swift album.

Resident Call Room
This is located on the 8th floor of SUNY Upstate Hospital in an area dedicated to call rooms. Our room is locked by key code, to be used exclusively by Ophthalmology residents and contains a bunk bed, sink, lockers, dresser, and computer. Nearby is the universal resident lounge.

CVR Atrium
The Center for Vision Research (CVR) is comprised of discovery and translational vision scientists working to elucidate the neurobiology of the retina and central visual system. Primary focuses include genetic regulation of ocular development and photoreceptor signal transduction and retinal processing. The CVR is housed in the state-of-the-art Neurosciences Research Building.
Link back to Upstate University - Ophthalmology