UCI Health - Pacific Breast Care Center - Virtual Tour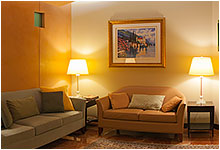 Welcome to UC Irvine Health Pacific Breast Care Center. We believe a warm and calming environment is vital for our patients' health. Whether you are visiting us for a screening mammogram, diagnostic tests or further treatment, we want you to feel at ease, to be surrounded by understated elegance and harmony.

Lobby
When you enter our doors at UC Irvine Health Pacific Breast Care Center, our friendly staff is there to put you at ease and guide you through your visit. The waiting area is designed to create an inviting and soothing space with soft, indirect lighting and comfortable seating.

Changing Room
In the privacy of our tastefully appointed changing rooms, you are provided with a spa-style robe and a secure locker to store your belongings.

Interior Waiting Room
In our interior waiting area, which is bathed in natural light, you can relax in comfortable chairs, enjoy coffee, cold or hot tea, and take in a view of the Newport Beach coastal area.

Exam Room
The hardwood floors and designer chairs in our exam rooms illustrate our belief that a medical office need not be cold or forbidding, but rather a comfortable place to talk with your doctor about your breast health concerns.
Link back to UCI Health - Pacific Breast Care Center