UC Irvine Douglas Hospital - Virtual Tour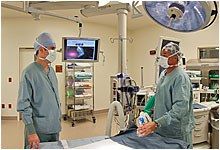 Welcome to UC Irvine Douglas Hospital Virtual Tour. We are part of the UC Irvine Medical Center and home to Orange County's only university hospital.

Main Lobby
Welcome to UC Irvine Douglas Hospital, part of the UC Irvine Medical Center and home to Orange County'€™s only university hospital. The medical center also has the county'€™s only Level I trauma center and National Cancer Institute-designated comprehensive cancer center. The spacious, 500,000-square-foot hospital opened its doors in 2009, thanks in part to a generous $21-million gift from the estate of Orange resident M.A. Douglas. The state-of-the-art hospital boasts a landscaped entrance, featuring a Pathway to Healing and a Healing Garden. The main lobby is bathed in warm, natural light to create a soothing and welcoming environment for our patients and visitors.

Dining Area
The Tony & Daisy Fan Dining Room, located off the main lobby of UC Irvine Douglas Hospital, is open daily for breakfast, lunch and dinner. Each day, our chefs create a nutritious and varied menu that includes grilled items, homemade soups, pizza, fresh fruits and vegetables, as well as vegetarian and low-fat dining options. Meals can be eaten in one of the dining room'€™s many comfortable tables and booths.

Hybrid OR
The state-of-the-art hybrid operating rooms at UC Irvine Douglas Hospital are a major advancement in the treatment of cardiac and vascular conditions. Hybrid ORs enable physicians with different specialties to work together and deliver a superior level of care. Patients also can receive rapid diagnosis and treatment for both simple and complex conditions in one location. The spacious design of our hybrid suites permit the latest in minimally invasive cardiac procedures while allowing surgeons the flexibility for open surgery should complications arise.

ICU
The intensive care units (ICUs) at UC Irvine Douglas Hospital provide a higher level of care and monitoring for complex cases than is available in general patient rooms. Our large and open ICU rooms are furnished with medical equipment and lighting to enable physicians to perform emergency procedures without delay. Each room has a large sliding glass door so physicians and nurses can easily monitor patients and quickly respond to any needs.

Labor and Delivery
The warm and welcoming labor and delivery suites at UC Irvine Medical Center are designed to make the birthing process as soothing and relaxing as possible for expectant mothers and their families. Each room is equipped with an adjustable patient bed, a television, refrigerator, Kangaroo chair for skin-to-skin holding and relaxing furniture that allows visitors to stay overnight in comfort.

NICU
The neonatal intensive care unit (NICU) at UC Irvine Douglas Hospital is a Level III NICU, meaning that it'€™s equipped to care for the tiniest and most critically ill babies. Because UC Irvine Medical Center also has a high-risk obstetrics program, the hospital is Orange County'€™s only regional perinatal center. The NICU'€™s large, private units accommodate newborns and their parents, with some rooms large enough to have more than one crib for multiple births. A private nesting and sleeping room is available for parents who are preparing to bring their infants home.

Operating Rooms
The state-of-the-art operating rooms at UC Irvine Douglas Hospital are designed to accommodate advanced technology, such as the da Vinci Robotic Surgical System, the Renaissance/SpineAssist robot and Orange County'€™s first intraoperative MRI for neurosurgery. Each OR is equipped with lights and medical equipment suspended from electronically controlled ceiling booms to allow the surgical team to move freely. Touch-screen technology controls every function in the room, while the picture archiving communications system (PACS) allows surgeons to view diagnostic images and medical records on the spot.

Patient Rooms
The large and airy patient rooms at UC Irvine Douglas Hospital are designed to be comfortable and inviting. Each private room has a full bathroom, a banquette for seating and large windows to let in natural light. An armoire provides a safe place to store valuables and personal items. Each room is also equipped with computers linked to UC Irvine'€™s medical records system allow physicians and nurses to easily access the patient's latest information.

Surgical Reception Area
The surgical reception area is a comfortable place for families and friends to spend time while a loved one undergoes surgery. The waiting area features seating, tables and large windows that let in natural light. The Surgical Information System (SIS) enables visitors to follow a patient's progress through surgery from start to finish. Upon check-in, visitors receive a pager so they can be updated about a patient's condition if they leave the waiting area.

Visitor Waiting Areas
The stylish visitor waiting areas at UC Irvine Douglas Hospital are designed to be soothing environments for patients and their visitors. Each waiting area is outfitted with large windows that let in plenty of natural light. Each waiting area also features televisions, reading materials and large, cozy chairs.
Link back to UC Irvine Douglas Hospital