Thompson Health - Ferris Hills - Virtual Tour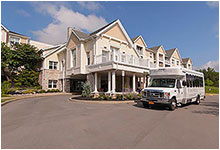 Welcome to Thompson Health's Ferris Hills Virtual Tour.

From services and amenities to residency plans and options, we maximize freedom and independence while providing the security and comfort that are the hallmarks of the area. This one-of-a-kind senior living community blends the energy and enthusiasm of the community with the comfort and security of the area's most well-respected health care provider – Thompson Health.

Entrance

Foyer Stairway

Computer Room

Upper Landing
Library

Dining Room

Vista Lounge

Sunset Seranades Gazebo

Walking Trail Gazebo

1BR

2BR

Fitness Gym

Rayburn Hall

Beauty Salon

Spa
Link back to Thompson Health - Ferris Hills