The MWD/LWD Diagnostic department goals are to provide customers quality and timely feedback regarding nonconformance (NCR) incidents, supporting field demand as well as collecting reliability data for engineering. The team is heavily involved in data analysis and attempting to reproduce failures experienced in the field to better understand and improve the quality of our products. In addition to addressing failures, the team also inspects maintenance tools and equipment for needed repairs and upgrades. NCR Statistics
Additional Information Related To This Image:
---
Tool Oven
The oven is an important tool for Diagnostics. It is used to temperature test tools whose failures are intermittent and only appear at elevated temperatures.
---
---
Tool Racks
These organize the tools waiting to be worked on.
Racks against the wall organize our incoming area where our clerk makes sure we have all the information we need to investigate a failure and then sorts accordingly.
---
---
Battery Storage
Employee sorting batteries soon to be inspected by technicians.
---
---
Electromagnetic MWD Test Station
Employee is using MWD Run to test an EM5. MWD Run and other DataModel applications are used to view settings and field (run) data to determine how the tools were operated in the field, confirm the failure description the field was complaining about and find evidence as to why the failure may have occurred (settings, temperature, vibration, etc.).
---
---
Failure Analysis
Employee removing MWD Eye from rack to being failure analysis.
---
---
Mud Pulse MWD Test Station
The laptop is displaying a WinLog plot. WinLog is a frequently utilized tool in Diagnostics. It gives the technicians the ability to see the environmental, rig and sensor information side by side to determine if there are any correlations or patterns around the failure. This information can help the technicians pinpoint what caused failures and assist them in reproducing the failure in the lab.

This employee is inspecting an RFC which is the mechanical connection between tools in a string. Failures in RFCs can cause communication errors, power loss to tools, etc.
---
---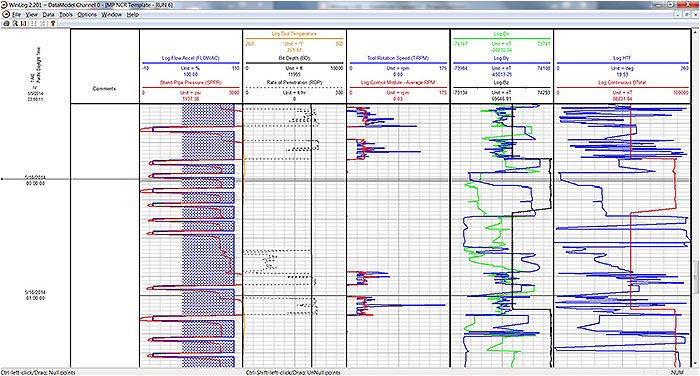 Work Station
The blue box (MSI) behind an MP6 tool is used to download MP6 ASCII logs. These logs contain valuable information about the environment downhole and the data can be displayed in a WinLog plot for interpretation.
---