Roper Hospital - Virtual Tour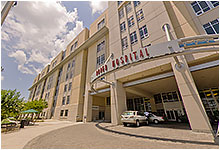 Recognized for its advanced technology and best practices, Roper Hospital was founded as the first community hospital in the Carolinas. Today, Roper Hospital is one of the area's most trusted names in healthcare. The hospital features a nationally accredited ER, Heart & Vascular Center and the Roper Rehabilitation Hospital.

Exterior
From the moment our patients arrive, at Roper they are greeted with complimentary valet parking and a sense of welcome. Valet parking is also offered to visitors at a reasonable rate.

Lobby
Stop inside the main entrance of Roper Hospital and you will find a friendly volunteer who can help direct you to wherever you need to go. From the lobby you can also access the gift shop, chapel and main elevators or stop by the Calhoun Street Café for a Starbuck's specialty drink.

Cafeteria
Our cafeteria offers a wide range of options to satisfy most any appetite. Our selections include a variety of hot entrees, a soup and salad bar, and a full service deli in addition to a variety of snacks and drinks.

ER
In an emergency, timing and experience mean everything. The Roper Hospital ER is an Accredited Chest Pain Center and national leader in reopening blocked arteries within 90 minutes. We are also a Primary Certified Stroke Center. From heart attack to stroke or for any serious injury you can count on your Roper ER 24/7.

Cancer Center Atrium
The light filled Cancer Center Atrium is the ideal place for families with loved ones staying in the hospital to relax and take some time for themselves. The atrium includes a kitchen for preparing small meals as well as a bathroom complete with showering facilities. There is also a washer and dryer for your convenience and a cancer resource library.

Cyberknife
We are proud to be the only facility in South Carolina offering CyberKnife treatments. CyberKnife is a painless, noninvasive radiation treatment that is an alternative to conventional surgery. The treatment delivers high doses of radiation to tumors anywhere in the body offering new hope to patients with inoperable cancer tumors.

Digital Mamography
We want to make your regular mammography appointment a pleasant one. When you come to our Breast Center you will enjoy complimentary valet parking, private dressing rooms and a relaxing atmosphere of caring. All of our mammography locations use digital mammo, the technology that produces the clearest images possible.

Breast Center Reading Room
All of our mammograms are read by board certified radiologists. Our radiologists are on-site at the Breast Center, which means we can review your mammogram immediately and provide you with an initial opinion before you even leave the center.

Vascular Center
Our vascular center features a coordinated-care model that surrounds the patient with a variety of services. Patients can expect to receive their testing, discuss the results with a surgeon and be provided with a treatment plan in just one visit.

Heart and Vascular Tower Patient Rooms
Each of the 147 private patient rooms in the Heart & Vascular tower includes a large private bath, storage wardrobe, flat screen TV, telephone and wifi internet access. Fold-out recliners are available for family members to stay overnight. Many of these patient rooms also have the added bonus of sweeping southerly views of historic Charleston.

Cath Lab
Skilled cardiologists work along side our experienced cardiac team in our 3 modern catheterization labs and 2 EP labs. When a heart attack strikes, the faster an artery can be reopened the better the patient's outcome will be. With our team of EMS, ER and cath lab experts all working together our average time for unblocking an artery is significantly lower than the nationally recommended 90 minutes.

Cardiac Rehabilitation
At our cardiac rehabilitation program, we work with patients on both prevention and rehabilitation. Our energetic team creates an environment where each person can reach their unique potential. We create programs for those who have recently had a heart attack or surgery as well as for those who want to achieve fitness goals.

164 Slice CT
Our 164-Slice CT Scanner gives physicians an up close look at arteries providing them with the information they need to create a comprehensive care plan.

HBO
Our hyperbaric oxygen (HBO) program is accredited with distinction and adheres strictly to the latest evidence based practice guidelines. We are a level one center which means we have staff available 24/7 for emergency conditions such as decompression sickness, carbon monoxide poisoning and arterial gas embolisms.

Rehab Gym
Therapists work with patients in our specially designed gym to help them achieve function and mobility after an injury or illness.

Real Life Center
We take a team approach to your care at the Roper Rehabilitation Hospital with doctors, nurses, therapists and other experts working together to devise a treatment plan to meet your functional goals.

Our Real Life Center features many of the things you will come across in daily life such as a car, steps, ramps and other physical barriers to prepare for your return home and into the community.

Rehab Day Room
The Day Room is a place for patients to relax, read a book or watch television. It is also the perfect place for our therapists to work with you on fine motor skills including eating and writing.
Link back to Roper Hospital