Roper St. Francis Mount Pleasant Hospital - Virtual Tour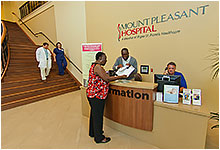 Welcome to Roper St. Francis Mount Pleasant Hospital. This all-new 85-bed hospital is located off Hwy.17 North, nestled amongst protected woodlands. Every part of our hospital was designed with you in mind – from the spacious patient rooms to the cafe's wood-fire pizza oven.

Exterior
Your experience at Roper St. Francis Mount Pleasant Hospital will be like no other, with an emphasis on comfort, communication and care with a personal touch.

Lobby
Roper St. Francis Mount Pleasant Hospital's main lobby is a light-filled space featuring a grand staircase and mural painted by a local artist. When entering the lobby a friendly volunteer will be available to help direct you to your desired location. The gift shop, chapel and main elevators can also be accessed from the lobby.

Cafeteria
Our open and airy cafeteria serves up a variety of delicious menu options. From hot entrees and sandwiches to a slice of pizza from our wood-fired oven, we have items to satisfy most every appetite. Guests may choose to dine in our cafe or enjoy the fresh air of our outdoor Palm Court.

Patient Room
Every patient room is private at Roper St. Francis Mount Pleasant Hospital. Each room is spacious and features a large bath, storage wardrobe, flat screen television, telephone and Wi-Fi internet access. Fold-out recliners are available for family members to stay overnight.

Outpatient Waiting Room
Check-in for your outpatient procedure is easy at Roper St. Francis Mount Pleasant Hospital. Our goal is to have you ready and comfortable for your upcoming procedure with minimal wait time.

X-Ray
Our state-of-the-art X-ray equipment is fully automated and can wirelessly transmit digital images for immediate viewing and manipulation. The wireless feature also allows for more freedom in movement and positioning during the exam.

CT Scan
This state-of-the-art CT 128 slice scanner from Siemens allows unprecedented image quality and detail with the lowest possible levels of patient exposure. It is also designed to be quicker and more efficient.

MRI
Roper St. Francis Mount Pleasant Hospital is the first in the Southeast to use GE Healthcare's Optima MR450w. This MRI system is designed to reduce patient anxiety. It is extra spacious and allows for more exams to be performed with the patient's head outside of the machine.

ER
In an emergency, the last thing you want to do is waste precious moments on the way to the ER. Roper St. Francis Mount Pleasant Hospital provides a fully equipped, 24-hour ER in an easily accessible location off Hwy. 17 North. The ER offers bedside registration, so you can go straight to a private room instead of sitting in the waiting area.

Operating Room
Our spacious ORs have the latest in surgical equipment. The operating room's video integration system features touch panel computer screens and LCD monitors to create the highest levels of image manipulation and clarity for our surgeons. Our second generation OR lights are fully adjustable while giving off minimal heat. Even the table itself comes with multiple changeable tops and multi-functional attachments.

Womens Imaging - Waiting Area
Our women's imaging department at the Roper St. Francis Mount Pleasant Hospital offers comprehensive imaging services for women including mammograms, bone density screenings and ultrasound. When you arrive you will be greeted by our friendly staff and taken back to a private dressing room. We have thought of every detail to make your appointment relaxing and comfortable.

Mamography
We are accredited by the American College of Radiology and offer full-field digital mammography technology which allows women of all sizes to receive a comfortable, fast and efficient mammogram. As with other mammograms, the breast is in compression, however digital mammography allows for improved efficiency, immediate review and manipulation of images, and the ability to store data digitally.

Bone Density
Bone densitometry, a quick and painless procedure, has become the standard for measuring bone mineral density (BMD). Bone densitometry is used most often to diagnose osteoporosis, a condition that often affects women after menopause, but may also be found in men. Osteoporosis involves a gradual loss of calcium, causing the bones to become thinner, fragile and more likely to break.

Ultrasound
Your ultrasound will be performed by a highly skilled, registered and licensed technologist. All of our ultrasound exams are interpreted by board certified Radiologists.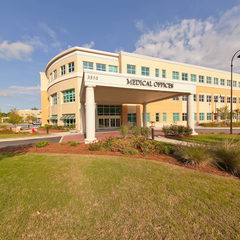 Medical Offices
The Medical Offices conveniently connected to the hospital house a variety of physician specialists including orthopedics, OB/GYN, urology, ENT, and vascular and general surgery. It also houses our women's imaging and diagnostic testing departments.
Link back to Roper St. Francis Mount Pleasant Hospital