Bon Secours St. Francis Hospital - Virtual Tour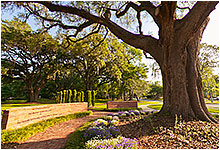 Welcome to Bon Secours St. Francis Hospital!

We have a reputation for creating a unique atmosphere of healing by combing high quality care, exceptional nursing and beautiful surroundings. Our acute care hospital offers several Centers of Excellence including: the Neuro-Spine Center, Women's Services and Emergency Services.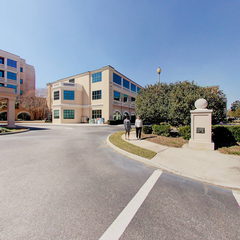 Welcome
Bon Secours St. Francis Hospital traces its mission back to Paris and the Sisters of Bon Secours. In 1882, the St. Francis Xavier Infirmary opened as South Carolina's first Catholic Hospital. The current hospital, surrounded by majestic oaks, was built in 1996.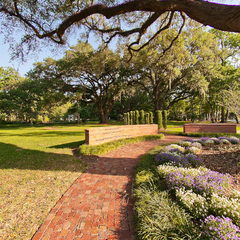 Meditation Garden
Our Meditation Garden was designed as a natural cathedral beneath the beautiful oaks on the grounds of the Bon Secours St. Francis Hospital. The garden serves as a place of refuge and reflection, healing and hope. It's a peaceful haven for our community and reflects Roper St. Francis Healthcare's commitment to caring for the whole person.

A garden stroll is an inward journey, engaging all the senses – smells of fragrant lavender, sounds of cascading water and wind chimes and numerous textures and colors. Comprised of four "sanctuaries" or individual garden rooms, the Meditation Garden includes one of the Lowcountry's few Labyrinths.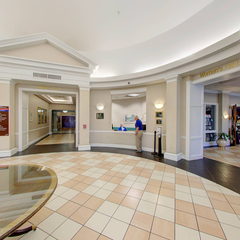 Reception Desk
When you come into our hospital's main entrance, you'll find a friendly volunteer at the reception desk. We welcome all of your questions. We're here to ensure you have the best experience possible.
Additional Information Related To This Image:
---
Gift Shop
Our gift shop is conveniently located on the first floor and carries an assortment of products including flowers, snacks, balloons, magazines, sundries and baby gifts.
---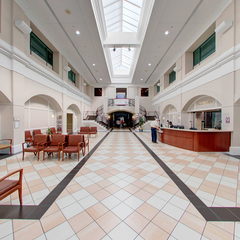 Mall Area
Relax and rejuvenate. The natural light and Palmetto trees give the mall area a uniquely Charleston feel. Patients and visitors can access registration, a full-service cafeteria, chapel and meeting rooms here. It's the perfect spot to share a cup of coffee and enjoy some sunshine.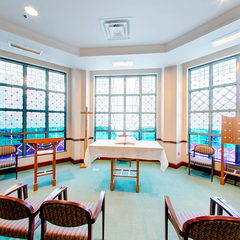 Chapel
The chapel is always open for reflection and prayer. Visitors are welcome to write their special intentions in the Book of Prayers just inside the chapel entrance. Trained Chaplains are available 24/7 for support by dialing the hospital Operator "O." Catholic Mass is held in the chapel every Thursday at 11:30 a.m.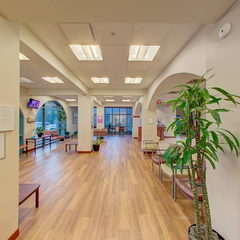 ER Waiting Room
Our board certified emergency medicine doctors and specially trained team are prepared 24/7 to treat everything from chest pain to fractures. In addition, Bon Secours St. Francis ER is a Primary Stroke Center, a designation earned by providing the critical elements to achieve long-term success in improving outcomes for stroke patients.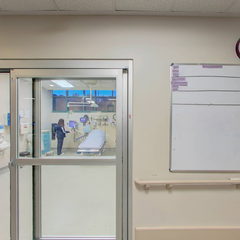 ER
Bon Secours St. Francis Hospital's board certified emergency doctors and specially trained nurses deliver the same compassionate, quality care found throughout our healthcare system.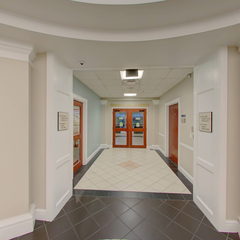 Women's Entrance
Our dedicated women's entrance, located on the west side of the campus, provides easy access and parking for mothers and mothers-to-be.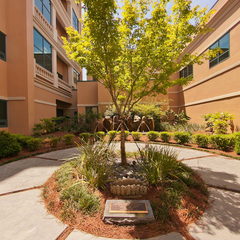 Women's Services Garden
This special garden is located outside the waiting area in the Women's Services department. Its quiet spaces and cozy seating areas make it the perfect place for visitors and patients to reflect and relax.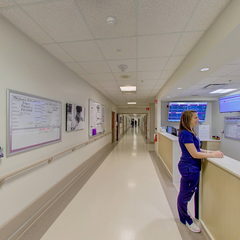 Labor and Delivery Nurses Station
When it's time to have your baby, you will find close-in parking just outside the Women's Entrance on the west side of the campus. Once inside, go directly to the nurses' station in the labor and delivery department. From there, a teammate will take you to a birthing room. Remember to always call your doctor first before leaving for the hospital.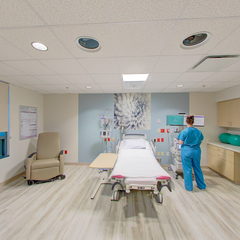 Birthing Room
The beautifully updated space is designed to create a comfortable and relaxing experience for new mothers, babies and loved ones. The brightly lit spacious rooms ensure plenty of room for families and an entire care team. In addition, the hospital has the ability to accommodate low-intervention births and all labor and delivery rooms have spa-like bathrooms and the latest labor support equipment.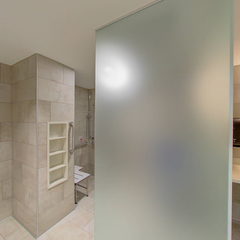 Birthing Room Bathroom
Our bathrooms offer mothers-to-be a spa-like experience with natural, soothing colors and modern fixtures.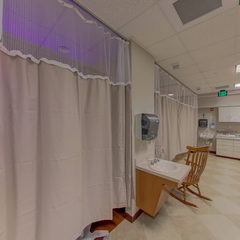 Nursery
In our nursery, your baby will be cared for by skilled and caring doctors and nurses. Our Level II nursery offers neonatology services. Your baby can stay with you in your room as much as you like or can be cared for in the nursery if you need some quiet time.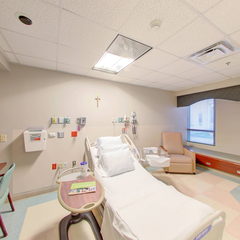 Mother and Baby Unit
After delivery, new mothers are transtioned here to bond with their newborns and recover.
Additional Information Related To This Image:
---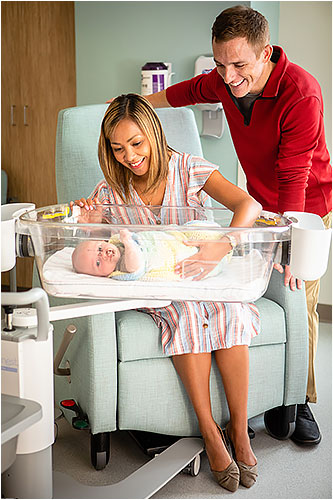 Halo Bassinets
Halo bassinets swivel 360 degrees, gliding right over mom's hospital bed or dad's sleeper chair. The bassinet's side rail goes down with a gentle press so that recovering patients can comfortably reach in to scoop up their new bundle.
---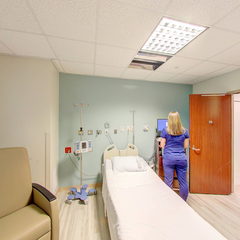 Antepartum
Mothers-to-be and their babies receive comprehensive medical and nursing care in our comfortable antepartum rooms. Our maternal-fetal medicine specialist physicians work closely with patients' OB/GYNs and neonatologists to ensure that mothers and babies receive the best care possible.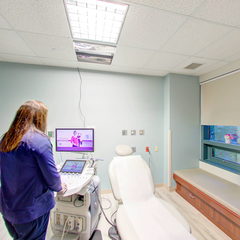 Perinatal Center
We offer perinatology services, also known as maternal-fetal medicine, for mothers experiencing high-risk pregnancies. Our compassionate, board certified experts treat women with existing medical conditions, history of pregnancy complications and those who develop complications during pregnancy.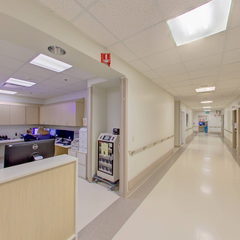 Obstetrics Emergency Department
Having a medical emergency while pregnant can be frightening. Our Obstetrics Emergency Department provides fast, expert care. Testing, labs, and other requests from the OB ED are prioritized so patients can receive rapid treatment.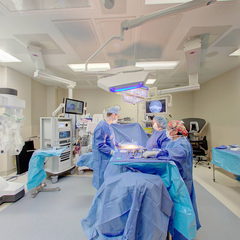 Bariatric Operating Room
Bariatric surgery has transformed the lives of so many people struggling with obesity. It can help patients reduce their risk for several serious medical conditions. Our award-winning team is made up of individuals passionate about helping people achieve weight loss and life goals. Some bariatric surgeries are done robotically.
Additional Information Related To This Image:
---
The DaVinci Xi
Surgeons get a closer look and precise controls when using the DaVinci Xi. This is one of the newest robotic technologies available. The robot moves with the operating room table making it easier for the surgeon to operate. Its versatility gives a surgeon the ability to handle complex surgeries in multiple specialties.
---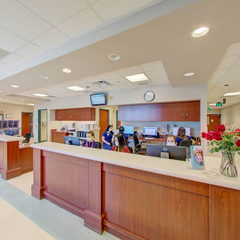 Bariatric Nurses Station
Specially trained bariatric nurses assist patients with post-operative nutrition and exercise recommendations and more. The length of time patients spend in the hospital varies depending on their procedure.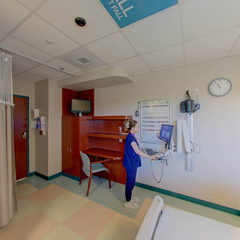 Bariatric Patient Room
Our weight loss surgery patients recover in rooms with specially designed beds, chairs and bathrooms to ensure their comfort.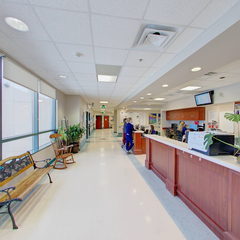 Neuro-Spine Center Nurses Station
The Neuro-Spine Center provides care for disorders involving the brain, spine and peripheral nerves. Our dedicated nursing unit is the heart of the Neuro-Spine Center. This state-of-the-art unit was specially designed for our nationally certified neuro-spine nurses and staff. The open layout and easy access to patient rooms allow our nurses to deliver the best care possible.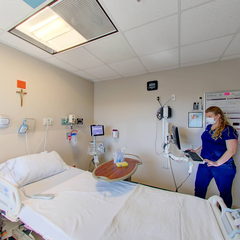 Neuro-Spine Center Patient Room
Neuro-spine patients recover on the hospital's fifth floor in one of our 18 specially designed, private rooms. Each spacious room features a large private bath, storage wardrobe, TV, phone and wifi. Fold-out recliners are available for family members to stay overnight. Our goal is to make your recovery as comfortable as possible.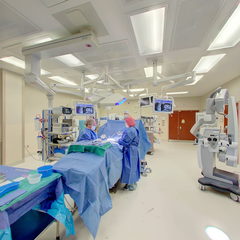 Neuro-Spine Center Operating Room
During spine surgery, precision is everything. Our surgical imaging technology allows the surgeon to view real-time images of your body during surgery. These images allow the surgeon to precisely see where to place instruments and make the best decisions during your surgery.
Additional Information Related To This Image:
---
The O-Arm
The O-arm™ is 2D/3D imaging system designed to meet the precise demands of the surgery. It also provides current patient data in the OR, enables advanced surgical approaches and streamlines surgical workflows.
---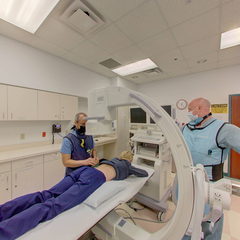 Pain Management
Our pain specialists are here to help treat and manage your pain. Our interventional procedures include injections of anesthetic medicine or steroids around nerves, tendons, joints or muscles and spinal cord stimulation. The pain management center is conveniently located on the hospital's first floor and features experienced, compassionate staff.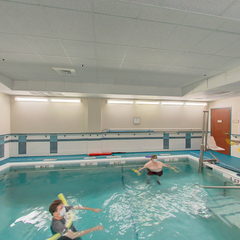 Therapy Pool
Pool therapy is ideal for patients to regain mobility in a soothing, low-impact environment. Our in-ground pool is heated to a comfortable 94 degrees, and we provide convenient changing rooms and towels.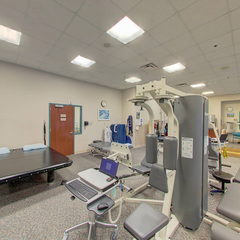 Rehabilitation Gym
Many patients go to physical therapy to assist in their rehabilitation. Our center is equipped with the latest in therapy equipment, and our friendly therapists work with each patient to create an individualized care program to help them reach their recovery goals. We offer inpatient and outpatient therapy.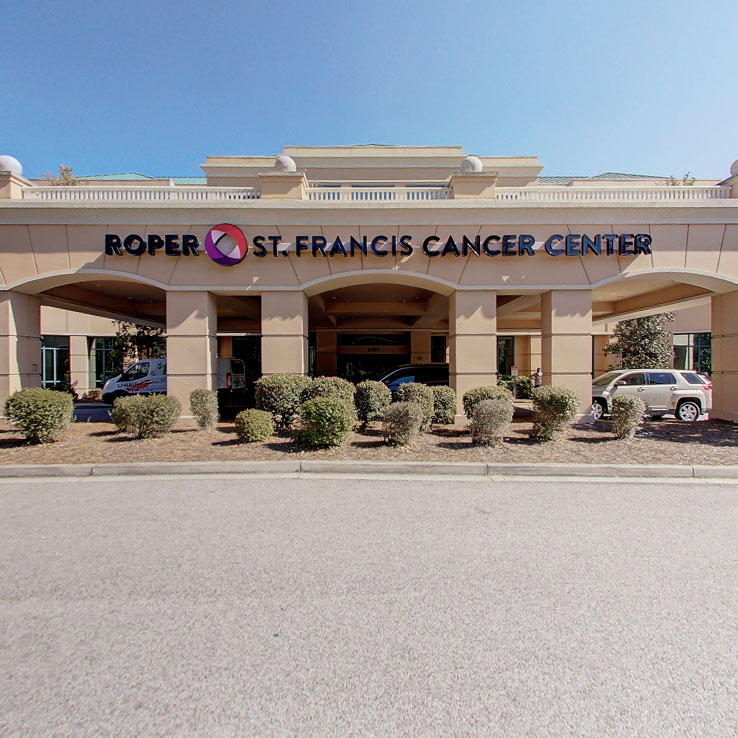 Cancer Center Exterior
The Roper St. Francis Cancer Center, in partnership with Charleston Hematology Oncology Associates, has created an outpatient cancer treatment center located on the Bon Secours St. Francis Hospital Campus. Here patients receive the full continuum of cancer care from diagnostic scans to treatments and support in one convenient location.
Link back to Bon Secours St. Francis Hospital