Winnie Palmer Hospital - Virtual Tour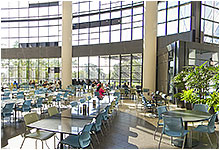 Welcome to this virtual tour of Winnie Palmer Hospital for Women & Babies, a leader in comprehensive healthcare for women at all stages of life. We invite you to take a look inside some of our key service areas and to learn more about Winne Palmer Hospital.

Main Entrance
The entrance to Winnie Palmer Hospital is located at 83 W. Miller St. in downtown Orlando. The facility is connected to Arnold Palmer Hospital for Children, located across the street, by a connecting bridge. Valet service is available, and there is ample parking across the street in the parking garage next to Arnold Palmer Hospital.
Additional Information Related To This Image:
---
Arnold Palmer Hospital for Children
Arnold Palmer Hospital for Children is a place of hope and healing. Here you will find a full range of pediatric services to meet the unique physical, emotional and developmental needs of children. We are proud to be ranked as a "Best Children's Hospitals" in multiple pediatric specialties by U.S. News & World Report. We invite you to take a look inside our family-friendly facilities and to
learn more about Arnold Palmer Hospital
.
---

Main Entrance / Atrium
The main lobby of Winnie Palmer Hospital includes Guest Services and Patient Registration, a light-filled atrium to the left with ample visitor seating and dining area, and a hallway to the cafeteria to the right.
Additional Information Related To This Image:
---
Guest Services
Guest Services provides general hospital information and escorts guests to their in-hospital destinations as needed.

To protect the security and privacy of patients, we require that all campus visitors check in daily at the Guest Services desk. All visitors, age 16 and older, will need to present photo identification, and our Guest Services team member will issue a badge to the unit you're visiting.
---
---
Concierge Services
The comfort of our patients is the cornerstone upon which the hospital was built, so special attention has been placed on creating a soothing environment. Our Concierge can arrange for a number of services to pamper and revitalize women, and their visitors.
Learn more
.
---
---
Patient Registration
We're excited to be the preferred healthcare facility for so many women. To prepare for your delivery or surgery at Winnie Palmer Hospital, we ask that you preregister for your upcoming stay with us.
Learn more
.
---
---
Dining Area
---

Winnie Palmer Hospital Café
The Winnie Palmer Hospital Café is located off the right side of the main lobby. Open 24/7, the cafeteria offers a variety of hot and cold items, including sandwiches, wraps, Grab 'n Go selections, and a salad/deli/dessert bar offering plenty of healthy options. More details.

Triage
The Women's Triage Unit provides quality 24-hour-a-day care for obstetrical and gynecological patients. The 19-bed unit is staffed by a team of doctors, midwives and nurses with experience in urgent and emergent prenatal issues and high-risk pregnancies. If it is determined that you are in active labor or have a medical condition needing further evaluation, you will be admitted to Labor and Delivery or to one of our other Women's Services units. Learn more.

Hughes Center for Fetal Diagnostics
The Center for Maternal Fetal Medicine offers comprehensive sonograms, diagnostics and consultations to expectant mothers with high-risk diagnoses and obstetric concerns. Learn more.

Labor and Delivery
Each of our birthing suites is equipped with medical equipment hidden behind soothing pictures, floor-to-ceiling windows streaming in natural light, and the use of wireless monitors allowing mothers to move about freely with the approval of their doctor. Other features include comfortable seating for your support person and a luxurious bathroom with a large hydro tub and shower. Learn more
Additional Information Related To This Image:
---
Concierge Services
Our Concierge Services offer amenities so luxurious, you'll feel like you've checked into an elegant hotel.
Learn more
.
---

Patient Rooms
Our inpatient rooms, whether for post-partum or surgical recovery, feature floor-to-ceiling windows and comfortable guest seating for visitors. All rooms include access to our concierge team who is available 24/7 to enhance your stay. Whether you need assistance arranging transportation or would like to take advantage of our complimentary services such as in-room spa packages and movie rentals, our team is here to make your stay more comfortable.

For our new families, mother and baby are encouraged to "room" together in our post-partum unit where a murphy bed is also available for an overnight guest. Baby will be bathed in their room with mom present to encourage mother baby bonding, and then placed skin to skin to warm up. Mother and baby will share the same nurse also known as "couplet care." Members of our clinical team will assess mom and baby throughout their stay. Learn more about how we support mother and baby.

Neonatal Intensive Care Unit
Our Level III Neonatal Intensive Care Unit (NICU), is capable of the highest level of care for high-risk newborns. Our NICU consistently demonstrates the best outcome statistics in Florida for low birth-weight babies. Learn more.
Additional Information Related To This Image:

Surgical Services
Winnie Palmer Hospital is designated as a Center of Excellence in Minimally Invasive Gynecology. We have invested in the most advanced technology for minimally invasive robotic- assisted surgery, which is available for many complex gynecologic operations, including hysterectomies. Learn more about the benefits of robotic surgery.

Women's Intensive Care Unit
Our spacious Intensive Care Unit rooms include the latest medical technology and monitoring equipment in a comfortable environment with large window views, a wall- mounted TV and seating to accommodate visitors. Trained critical care registered nurses staff the ICU with a nursing station located right outside the door thanks to the unit's circular design.

Mother's Walk in Antepartum Unit
Our Mothers' Walk outdoor patio on the 5th floor provides an open outdoor space for expectant mothers requiring long-term care while awaiting the birth of their new arrivals. With permission from their doctor, patients are free to have their lunch outside, spend time with visitors or join in arts and craft activities hosted by our staff.

Neonatal Intensive Care Mobile Transport - Care Bay
The Neonatal Intensive Care Unit (NICU) Transport Team is dedicated to the safe transfer of your newborn from a referring facility to our 142-bed NICU. Our Mobile NICU is staffed with a highly skilled registered nurse, a respiratory therapist and EMT/paramedic driver, and equipped with the most advanced medical technology for newborns. Learn more.

Nursery
Your newborn is welcome to stay with you in your private room, but when your baby needs additional medical attention or requires certain procedures, our qualified team of registered nurses and pediatricians will be available to provide care to your baby in our nursery. Parents are welcome to accompany their newborn in the nursery, or one of our registered nurses can provide care to your baby until they are ready to be reunited with you in your private room.
Link back to Winnie Palmer Hospital