Oberlin College and Conservatory - Virtual Tour


Oberlin's distinguished liberal arts college and Conservatory of Music combine to create a learning environment like no other. Located 35 miles southwest of Cleveland, Ohio, our 440-acre campus immerses students in opportunities for intellectual and artistic growth.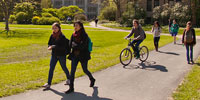 Wilder Bowl
Oberlin students prize individuality while aspiring to high standards of intellectual inquiry, debate, and achievement. Students often gather in the green space known as Wilder Bowl to study, play music, express political views, or just hang out.
Additional Information Related To This Image:
---
Main Library
The Main Library in Mudd Center is a hub for academic life; three additional libraries focus on science, art, and music.
---
---
Wilder Hall
Wilder Hall is the center of student life on campus.
---
---
Peters Hall
The study of world languages is the focus of Peters Hall—on top, an observatory for viewing the night sky.
---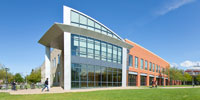 Science Center
With lab equipment you would expect to find at a large research institution, Oberlin's science facility incorporates technology into nearly every classroom and laboratory. The floor plan of the Science Center promotes interaction between undergraduate students and faculty mentors.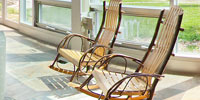 Adam J Lewis Center for Environmental Studies
This green building generates most of the energy that it uses and gives real-time feedback on consumption patterns. Opened in 2001, the center began the sustainable building boom on the Oberlin campus, which now has four facilities that are LEED certified by the U.S. Green Building Council. A solar panel that follows the path of the sun moves water through its indoor pond. See Photo Gallery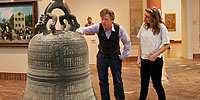 Allen Memorial Art Museum
Only a handful of campuses can claim an art museum of this caliber. The Sculpture Court - look closely to find pieces by Claude Monet and Edmonia Lewis - displays prominent items from the Allen's teaching collections of nearly 14,000 works of art. Founded in 1917, the Allen helps students gain insight into a wide range of cultures and civilizations.
Additional Information Related To This Image:
---
Art Rental Program
The Art Rental program makes it possible for students to live with great works of art.
---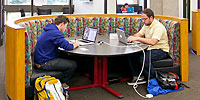 Lemle Academic Commons
On the first floor of the Main Library in Mudd Learning Center, an open study area offers technology and research assistance—even a coffee shop. The Robert S. Lemle '75 and Roni Kohen-Lemle '76 Academic Commons also encourages academic community on a campus where classes are rigorous but the competition is friendly.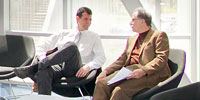 Skybar - Conservatory Faculty
Conservatory deans and faculty gather in the Lilly Smith McGregor Skybar. The structure spans two main buildings: one primarily for teaching classical music performance, and a new building, the Bertram and Judith Kohl Building for the study of jazz, music history, and music theory. With an esteemed faculty and leadership, the Oberlin Conservatory of Music cultivates a culture of risk taking as students achieve high levels of artistry.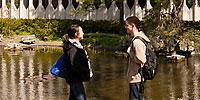 Conservatory Pond
Conservatory buildings look out over the serene beauty of a Japanese-inspired landscape. Minoru Yamasaki, also the architect for the original World Trade Towers, designed the conservatory complex, with its modern Gothic facades. Oberlin's conservatory has more than 150 practice rooms (all with windows) and is the nation's only major music school linked with a preeminent liberal arts college on the same campus.
Additional Information Related To This Image:
---
Conservatory Facilities
The conservatory's outstanding facilities include five performance halls and more than 150 practice rooms.
---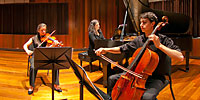 Clonick Recording Studio
Made possible by a generous gift from Joseph R. Clonick '57, this state-of-the-art recording facility is available for student use by reservation. With excellent acoustics, the studio also features high definition cameras and high-resolution audio recording systems. Along with conservatory faculty and alumni, such professional musicians as Zuill Bailey, Richard King, Awadagin Pratt, and the Arianna String Quartet have also recorded in the studio.

See Photo Gallery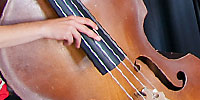 Thomas Kutzen Rehearsal Room
In addition to more than 30 faculty-led ensembles, Oberlin students perform in numerous informal bands and musical groups. Rehearsal spaces in the new Bertram and Judith Kohl Building feature ceiling-mounted microphones and multimedia technology. All practice and rehearsal rooms have Steinway pianos—more than 200 across campus.

Explore in and around the Kohl Building, home to classes in jazz studies, music history, and music theory.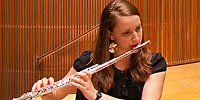 Kulas Recital Hall
Woodwind students receive instruction from Richard Hawkins, associate professor of clarinet, in Kulas Recital Hall. The most intimate of Oberlin's five performance venues, Kulas hosts a variety of masterclasses, recitals, lectures, recording sessions, and studio classes.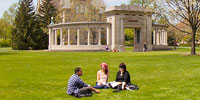 Tappan Square
A 13-acre green space links the college and town of Oberlin, which were founded together in 1833. Flanked by historic campus buildings and assorted downtown shops and restaurants, Tappan Square hosts a variety of community festivals and key events, including Commencement.

See photos of downtown Oberlin and events on the square.
Link back to Oberlin College and Conservatory