Mercy Hospital St. Louis | Maternity - Virtual Tour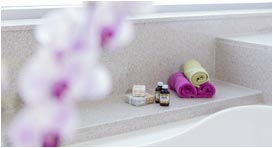 Welcome! Thanks for your interest in the new Mother -- Baby experience at Mercy Hospital St. Louis. We're eager to show you around. Just follow the instructions below to take the virtual tour.

Main Entrance
There's a new addition for moms-to-be at Mercy. And you're going to love it! Come inside and see what we've delivered for you.
Additional Information Related To This Image:
---
Reserved Maternity Spaces
Inside the Conway Parking Garage, you'll find 10 quick-access spots reserved for the Maternity Welcome Center. Park for up to 2 hours while Mom gets settled inside.
---
---
Valet Parking
In a hurry? Let our valet find a spot for you, so you can quickly get to the care you need. 11 a.m. to 7 p.m. daily
---

Main Lobby
Having a baby is hard work! But finding your way to our Maternity Welcome Center is easy. Just enter the hospital lobby through the main entrance, and turn right. We'll be waiting for you!

Maternity Welcome Center
Every day is Labor Day at the Maternity Welcome Center! We're here for you 24/7 – whether you're in labor, think you might be, or have a pregnancy concern that requires prompt medical attention. We'll check you in, verify your insurance information, and answer your questions as you move through this exciting stage in your parenting journey.

Interview Room
Located inside the Maternity Welcome Center, the Interview Room is where you'll meet your nurse and talk about how your labor is progressing. If you've completed a personal birthing plan, you may discuss it with your nurse at this time.

OB Triage
If an exam is needed, you may be moved to the OB Triage area inside the Maternity Welcome Center. If you're in labor, we'll keep a close eye on your progress here until it's time to move to the Labor and Birth Suites. While you're waiting, use Mercy's free Wi-Fi to check out our mom communities on Facebook and Pinterest.

Labor and Birth Suite
Mercy's added 31 new Labor and Birth Suites – comfortable, soothing rooms designed with Mom's needs in mind. There's space to walk, space to rest, and space for your support team. You'll have a luxurious private bathroom with spa-inspired comforts. You can play CDs or your iPod, watch cable or your own DVDs, and announce your big news using our free Wi-Fi. This is where you and your baby will spend your first moments together, bonding skin-to-skin.
Additional Information Related To This Image:

Perioperative Room for C-Section
If you're preparing for a cesarean section or recovering from one, you'll have your own private room with seating for two guests and a nurses' station nearby.

Operating Room
Your birth partner is encouraged to be present for baby's arrival, even if that occurs in the operating room. If your baby will be born via C-section, talk with your doctor about how you can make the moment special and whether you can bring a camera to the big event.

Family Waiting Area
Grandparents … siblings … aunts and uncles … your baby has so many special people to meet! We keep them close and comfortable in our Family Waiting Area, with free Wi-Fi, a flat-screen TV and space for snacking or relaxing.
Additional Information Related To This Image:

Mother-Baby Unit
After your baby is born and you've both had some time to recover, you'll move to your own room in our Mother-Baby Unit. Your baby is welcome to room in with you – and your partner can stay, too.
Additional Information Related To This Image:

Maternal Fetal Health
Moms with complex pregnancies may need special care leading up to the big day. At Mercy Hospital's Maternal-Fetal Health Center, expert physicians offer high-level specialty care to help your pregnancy progress as smoothly as possible. Mercy also has Maternal-Fetal Care locations in Washington, Missouri, O'Fallon, Missouri, Festus, Missouri, and Maryville, Illinois.
Additional Information Related To This Image:

Antepartum Unit
Mercy's Antepartum Unit is for moms-to-be who need to stay in the hospital for bed rest. In our While-You-Are-Waiting Lounge, you can take prenatal classes, watch a movie or do crafts like making a baby blanket, or wall hangings for your baby's room. We also have a play area for big brothers and sisters when they visit.

Mercy Children's Hospital Neonatal Intensive Care Unit
Some babies need extra attention to get off to a healthy start in life. Take comfort in knowing our Emerson Level III Neonatal Intensive Care Unit is just an elevator ride away, with specialists offering the most advanced infant care in St. Louis County. Each NICU family has a private room – some, like this one, created just for multiples. All NICU rooms are designed to promote infant healing and encourage family bonding.
Additional Information Related To This Image:

Mercy Birthing Center
On the first floor is Mercy's in-hospital, low-risk birthing center for moms who want a more natural childbirth experience. You will visit the certified nurse midwife in the clinic for all your prenatal appointments and take childbirth classes in the community room next door.

Mercy Birthing Center Living Room
Moms choose the Mercy Birthing Center for its natural childbirth options. And if you or your baby should have a medical issue, our Labor and Birth area is just an elevator's ride away. A certified nurse midwife will be with you during your birth. Doulas and your partner are welcome here.
Birthing Center Suite
The Mercy Birthing Center has four birthing suites, beautifully decorated for a soothing, at-home environment. Each one has a queen-size bed, a shower and large labor tub. Most moms stay about four to 12 hours after baby's birth, and return within two days for follow-up care.
Link back to Mercy Hospital St. Louis | Maternity