We focus on every aspect of pediatric care, from our dedicated team to a child-friendly environment. In collaboration with Children's National Hospital, we are one of only a few dedicated proton therapy pediatric programs in the country.
Additional Information Related To This Image:
---
Special Expertise for Children
Johns Hopkins Medicine and Children's National Hospital have collaborated to create one of the few dedicated pediatric proton therapy programs in the country. As national leaders in pediatric cancer care, we provide high-quality care for our youngest patients.
---
---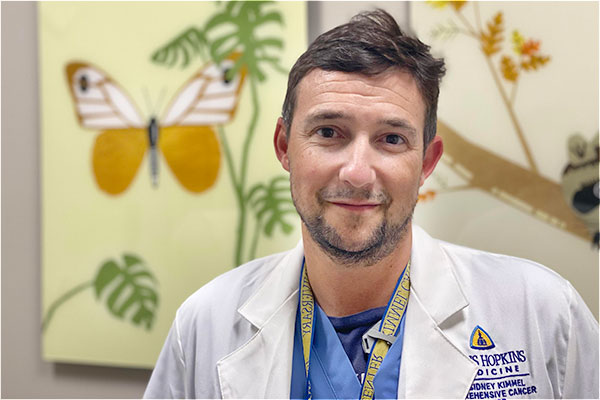 Click to hear to a message from Dr. Matt Ladra
---
---
Letting Kids Be Kids
We know that cancer treatment can be difficult for your child to comprehend, which is why we created a center with a child's perspective in mind. Our pediatric patients are separated from adult patients during their visits. The pediatric waiting room, nurses' station and exam rooms have been thoughtfully designed to help your child feel more comfortable while in our center.

Our compassionate team interacts with your child on a level children can understand. We have a full-time child life specialist who works with children on a variety of needs.
---
---
Dedicated Multidisciplinary Pediatric Team
A multidisciplinary team is devoted to helping you and your child find the best treatments for a variety of pediatric cancers. Our team includes pediatric radiation oncology experts, pediatric nurses, nurse navigators and a child life specialist.
---
---
The Value of Proton Therapy for Children
In children, the ability to better steer protons to the cancer means that developing brains, hearts and lungs and growing bones can be better protected. Tumors that are close to vital organs — which in the small bodies of children can be many organs — in the brain, spine, chest, abdominal and pelvic regions are also well suited to proton therapy.

This is especially important for children who are growing. Proton therapy can reduce damage to development and IQ as well as decrease the chance for another cancer to develop years later as a result of treatment.
---