Auguste Escoffier School of Culinary Arts - Virtual Tour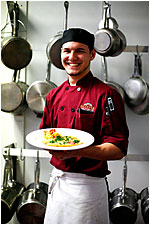 Welcome to the Auguste Escoffier School of Culinary Arts - World-class, Accredited Culinary & Pastry Programs.

Prepare yourself for an exciting, satisfying career in our hands-on culinary programs focused on farm-to-table philosophy or pastry programs focused on classic and modern day trends. Get individual, one-on-one instruction from industry-experienced chefs in our small classes, as well as lifetime job placement assistance from our friendly staff.

Our goal is to make a positive impact on the direction of American food culture by offering a fresh, sustainable approach to professional culinary training. Take the tour to find out more.

Welcome to the Boulder Campus
Picture yourself attending culinary school at our Boulder, Colorado campus. Spend hands-on class time in a modern, professional kitchen. Gather herbs from an herb garden right outside your kitchen. Take a break, relax on a bench, bask in Colorado sunshine, enjoy views of the magnificent Flations, grab a coffee at a café next door, or take a walk around the neighborhood filled with local shops, restaurants and a brewery.

Reception - Boulder Campus
Welcome to the administrative office where our friendly staff helps students with everything from financial aid questions to job placement assistance. Our comfortable reception area features a replica kitchen from the childhood home of Auguste Escoffier, now a museum in Villeneuve-Loubet, France. It is the signature design on both of our campuses.

Culinary Arts Kitchen - Boulder
Culinary Arts students spend most of their time cooking in a professional kitchen, and appreciate the hands-on aspect of the program. They cook every day, working side-by-side with fellow classmates to prepare a complete meal. Our students get individual, one-on-one instruction from industry-experienced Chef Instructors - an easy task to accomplish in our small class setting.
Hands-on learning
Small class size
One-on-one instruction

Pastry Arts Kitchen - Boulder
Pastry Arts students spend most of their time in a professional pastry kitchen baking artisan breads, creating and decorating cakes, exploring molecular gastronomy, learning to create signature desserts, and more. They prepare a wide variety of pastry items and desserts daily, working side-by-side with fellow classmates as they learn both the science and artistry of pastry.


Hands-on learning and production
Comprehensive curriculum
Classic and modern techniques & methods

Class Meal - Tastings
The class meal and/or tastings at the end of each day is where learning happens. Students taste everything they make. We teach the importance of palate development – its subtleties, harmonies and contrasts. Each student gets an opportunity to discuss the day's production with the Chef Instructor, as well as their team's accomplishments and missteps. Everything we teach – techniques, methods and menu development – begins and ends with tasting.

Farm To Table Experience
Aromatic peaches, pink heirloom potatoes, free-range lamb…we teach Culinary Arts students to cook with fresh, locally-sourced ingredients during our 6-week Farm To Table® Experience. Students get exposed to in-depth knowledge of where food comes from through hands-on, direct learning as they are immersed in the local farming industry.


Learn the advantages and intricacies of sourcing local, seasonal food
Go behind the scenes to meet farmers, ranchers and artisans
Develop the knowledge to make the best sustainable and ethical ingredient choices

Historic Pearl Street
Picture yourself in sunny Boulder, Colorado, one of America's most beautiful and celebrated small cities. Named the Foodiest Town in America in 2010 by Bon Appétit, Boulder is home to a lively restaurant scene, burgeoning natural foods industry and a broad community of local farmers.


Award-winning, innovative restaurants
A thriving natural foods industry
Dozens of some of the country's finest microbrews

Flatirons View from Downtown Boulder
Nestled against the foothills of the magnificent Rocky Mountains, Boulder is a vibrant community of 100,000 people. With 45,000 acres of preserved open space, 300 miles of bike paths and hundreds of miles of hiking and biking trails, the stage is set for endless outdoor activities. Boulder has a surprisingly mild four-season climate and over 300 days of sunshine a year.


Unbeatable weather
Endless outdoor opportunities
60 urban parks complete with amenities for all

Courthouse in Downtown Boulder
Boulder offers the amenities of both a big city and a small town: a dynamic arts and cultural community, thriving natural foods, outdoor and tech industries, a renown entrepreneurial community, and a world-class restaurant scene.

Culinary Arts Kitchen - Austin
Culinary Arts is a fast-paced program with a lot of hands-on kitchen time. Each day, students rotate kitchen stations as they cook a full scope of menu items. Menus increase in complexity as the weeks go by. Students prepare classic recipes, as well as those that reflect current trends throughout the culinary world. This could be you!


Rich and varied curriculum
Classic and modern techniques & methods
Teamwork and management skills

Pastry Arts Kitchen - Austin
ith personal attention, encouragement and guidance from a knowledgeable Chef Instructor, Pastry Arts students learn the skills necessary to create more challenging pastries and desserts. They taste everything, practice contemporary plating styles, learn to refine their skills, and acquire an appreciation for culinary artistry. This could be you!


Personal attention and guidance
Small class size
Teamwork and management skills

Student Resource Center
Each day before students begin to cook the daily meal, the Chef instructor reviews the menu, culinary techniques, terminology, and production assignments in the kitchen. This fully integrates the Brigade system, a cornerstone of kitchen management, established by Auguste Escoffier.

Agricultural Learning Center
The Agricultural Learning Center on our Austin campus is merely steps away from the professional kitchens. Students grow, cultivate and harvest a variety of fresh, seasonal fruits, vegetables and herbs to use in classroom. The Center is an illustration of our commitment to the farm-to-table philosophy, localism, seasonality, and sustainability.

Colorado River in Downtown Austin
Amidst the rolling hills and oak trees that line the banks of the mighty Colorado River, Austin is the vibrant state capital of Texas. Known for its natural beauty, outdoor recreation, retailers, and restaurants, Austin offers a lively, thriving community in which to live, work and study:

• Ranked in the top 10 emerging food markets in January 2011 by Austin Business Journal
• Named one of 10 Hippest Neighborhoods in America in 2012 by Forbes magazine
• Austin's Sunset Valley Farmers' Market ranked in the top 10 in the U.S. in August 2009 by Huffington Post
• Known as live music capital of the world - host to highly regarded South by Southwest and Austin City Limits music festivals
Link back to Auguste Escoffier School of Culinary Arts