EPRI's Nuclear Sector Performance Demonstration Lab - Virtual Tour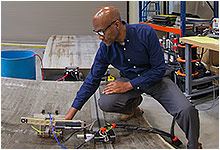 Welcome to the Electric Power Research Institute (EPRI) Charlotte, North Carolina campus. As an independent, nonprofit organization, EPRI conducts research, development, and demonstration projects for the benefit of the public in the United States and internationally. We focus on electricity generation, delivery, and use in collaboration with the electricity sector, its stakeholders and others to enhance the quality of life by making electric power safe, reliable, affordable, and environmentally responsible.

Main Exterior
Welcome to the Electric Power Research Institute (EPRI) Charlotte, North Carolina campus. As an independent, nonprofit organization, EPRI conducts research, development, and demonstration projects for the benefit of the public in the United States and internationally. We focus on electricity generation, delivery, and use in collaboration with the electricity sector, its stakeholders and others to enhance the quality of life by making electric power safe, reliable, affordable, and environmentally responsible.

Lobby
This tour will take you inside just one of our many areas of research and development, the Nuclear Sector's Nondestructive Evaluation Performance Demonstration Laboratory. Performance demonstration is the proof that NDE procedures, equipment, and personnel can achieve a specified level of performance, as required by the American Society of Mechanical Engineers (ASME). Today you will experience an overview of the Performance Demonstration Program starting with the design and manufacturing of the flawed samples used for the demonstration process. You will see the different areas of the lab where procedures, equipment, and personnel are qualified. At the end of this tour you will realize what makes the EPRI Performance Demonstration Program such a valuable asset the global nuclear industry.

Design Drawing Review
As new and existing plant component configurations require nondestructive examination (NDE) and ultrasonic testing (UT) in particular, inspection techniques for detecting flaws within these configurations must also be developed. EPRI, with input from the industry, designs and manufactures component samples with flaws to meet this need.

Sample production begins with design drawings based on input from utilities or vendors, including the original design of the component and its associated weld(s) along with any other specifications of the configuration in the field. Flaws of a certain type, size, shape and location are then added to the design drawing to represent as-found field conditions or conditions postulated by materials experts. Finally, the design drawings are approved by all parties involved before manufacturing of the sample.
Additional Information Related To This Image:
---
(HEADING TITLE)
Performance Demonstration (PD) Department
At EPRI, corporate social responsibility (CSR) is an extension of our mission, vision and values. The Performance Demonstration (PD) department has made a commitment to CSR by making the demonstration process as paperless as is possible to reduce our overall waste generation. This commitment starts in the design of the mockups as drawings are generated, reviewed and signed all in an electronic format.
---

Manufacturing Hold Point
EPRI has developed sophisticated flaw-making processes that are designed to mimic the NDE responses from actual flaws, without introducing spurious reflectors in the form of welding defects that could interfere with the ability of the examiner to properly characterize the ultrasonic response from the intended flaw(s). EPRI spent years comparing the ultrasonic signatures (responses) from field-removed flaws to the simulated flaws in order to assure representative responses.

During the manufacturing process, quality control protocols are used to assure that the finished product is built to the drawing specifications. Specific "hold points" are identified to halt the sample manufacturing process so critical parameters are verified before continuing at various steps. The manufacturer also takes physical "flaw-truth" measurements to confirm the individual flaws meet the specifications.

Branch Connection Fingerprinting
Nondestructive examination (NDE), specifically ultrasonic testing (UT) is the next critical step in the "receipt inspection" process, and is performed on all new samples. Ultrasonic inspections are performed to validate the ultrasonic responses from the flaw are realistic to flaws found in the field. The inspections are also used to verify flaw location and size, and ensure any weld within the sample is satisfactory for testing. This process is referred to as "fingerprinting." In most cases these ultrasonic tests are carried out using an automated pipe scanning system, which provides an encoded digital file for each scan performed that is permanently stored on EPRI's secure server. In some cases, surface limitations prevent the use of an automated system. In these cases, the examinations are performed manually and the results have to be recorded on paper reports that are permanently archived on EPRI's secure server. These manual examinations are non-encoded and offline data is not available for further review. Due to this lack of permanent data, the use of non-encoded techniques is not preferred.

Piping Sample Fingerprinting
The "fingerprinting" process provides the needed data to assure that the anticipated flaw responses can be obtained; determine if the sample is free of unintended flaws that may interfere with the detection or sizing of the intended flaws; and is acceptable to use for testing purposes. Once this process is complete and the sample is deemed "fit for use", a Certificate of Conformance is issued for the sample and it is turned over to the Performance Demonstration Program for testing purposes.

Research and Development Projects
These samples are used to develop inspection techniques and to qualify the procedures, equipment and personnel who will perform the inspections in the field as well as to perform various research and development projects that enable NDE to evolve. EPRI houses all of these samples in a single location allowing vendor and utility staff exposure to a wide array that they might otherwise have to travel around the world to see.

General Samples
Welcome to the Performance Demonstration Program secure sample storage area. Samples in this area are used for the piping and upper head procedure qualifications and personnel testing. EPRI has more than 700 samples in this room of the various sizes, ranging from 2 to 50 inches (50 to 1270 mm) in diameter. New samples are continuously manufactured to address new designs and inspection issues identified by the industry.

IHSCC Samples
EPRI designs and fabricates these samples to address its members' demonstration requirements in an efficient, cost-effective, technically sound and unified manner.

These steps and securing of the samples and their corresponding information along with EPRI's years of experience in this area provide the Performance Demonstration testing program its strength and trustworthy reputation.

Encoded OD RPV Plate Examinations
Welcome to the Reactor Pressure Vessel (RPV) sample and qualification area. This section of the lab is where EPRI performs procedure and personnel testing for components in Boiling Water Reactors (BWR) and Pressurized Water Reactors (PWR).

Of particular significance in this area, is the BWR nozzle mockups. These mockups were fabricated from a cancelled BWR 6 reactor. EPRI purchased the cut-outs from the reactor and had flaws fabricated and inserted in each of these mockups to help create the ASME (American Society of Mechanical Engineers) Section XI Appendix VIII Supplements 5 and 7 qualification program.

Encoded ID RPV Plate Examinations
These components include PWR reactor upper head penetrations, nozzle-to-shell welds, nozzle inner radius, vessel-shell welds, as well as bolting and studs.

Bolting Examinations
The PWR inlet (Cold Leg) nozzle is another mockup that was procured from a cancelled reactor – the canceled Westinghouse 4-loop plant.

Piping Procedure Qualification
This areas is the Performance Demonstration procedure qualification area. The process of qualifying procedures, equipment and personnel starts in this room.

First the procedure must specify the type of component(s), including the applicable thickness and diameter ranges. It must also contain all essential variables required to ensure all flaws are detected and false calls are eliminated or reduced from the process.

Next, the personnel being qualified will take the range of samples specified in the procedure and collect encoded data (automated or manual) or non-encoded data with conventional or phased array ultrasonic techniques as specified in the procedure. EPRI Performance Demonstration Administrator (PDA) staff closely monitor the data collection process to ensure the written procedure is followed exactly as it is written.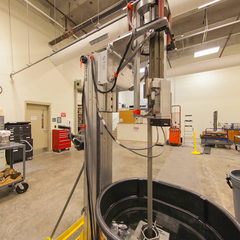 Reactor Head Examination Procedure Qualification
During a procedure qualification attempt, 100% detection of all flaws is required for a procedure to be successfully qualified. This assures that the written procedure, specified equipment and techniques are acceptable for use in plants.

If the procedure incorrectly determines that a sample is flawed (i.e., a false call), this can result in significant costs to the nuclear power plant operator and a potential reduction in confidence in the qualification process.

Non-Encoded Ultrasonic Testing
This is the Performance Demonstration qualification area, where personnel are qualified to already qualified procedures.

Personnel qualifications can be performed with non-encoded manual techniques or prerecorded encoded data collected in a manual or automated manner. Both non-encoded and encoded qualifications can utilize either conventional or phased array techniques.

The candidate performing the personnel qualification is tested on the same range of sizes and materials as the original qualified procedure.

Encoded Ultrasonic Testing
All personnel testing is performed in a blind format, meaning the candidate does not have knowledge of the true sample identification, flaw location, size or orientation. The result is pass or fail only, and due to the blind nature of the testing and samples, limited feedback can be given to the candidate in either case.
Link back to EPRI's Nuclear Sector Performance Demonstration Lab