DeSoto Civic and Recreation Center - Virtual Tour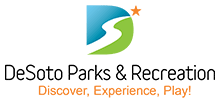 Welcome to the DeSoto Parks and Recreation Department's virtual tour. Browse and experience the amenities available in the Recreation Center, Corner Theater, Civic Center and Amphitheater. The department's mission is to enrich the quality of life in DeSoto, provide World Class customer service, premier parks, and dynamic recreational experiences. We hope you'll enjoy this virtual tour.

Be sure to click on the hot spots for additional information, photos and videos!

Recreation Center - Gyms
The gymnasiums feature full and half-court playing surfaces constructed of NBA-quality hardwood flooring. The gym is available for tournaments, practices, individual and group training sessions.
4 adjustable (7' - 10') baskets on the full court and 8 adjustable baskets on the half court
Maximum capacity is up to 145 spectators, along with multiple viewing and seating areas for spectators to observe training sessions, practices and enjoy games.
Partitions available for private training sessions.
Shoot-A-Way Gun 8000 (automated basketball rebounding machine) available for rent to individuals and large groups.
Additional Information Related To This Image:

Recreation Center - Dance Room
The Dance room accommodates up to 100 guests. This space is equipped with hardwood flooring and mirrored walls perfect for large aerobic classes.

Recreation Center - Fitness Room
The Fitness Room features state of the art treadmills, stationary bikes, free weights and a Cybex universal weight system. Our cardio equipment boasts individual theater televisions.

Recreation Center - Athletic Performance Enhancement Room
The Athletic Performance Enhancement rooms features an extreme fitness Matrix Double MEGA rack which accommodates a maximum of 13 athletes at one time, kettle bells and dumb bells. An additional performance enhancement space boast an Assault Runner and a Woodway motorless treadmill, two V8 Vertimax optimal trainers, Keiser functional trainer, Keiser air runner, and plyometric boxes. These spaces are available for private and small group training.

Recreation Center - Racquetball Court
A fully enclosed indoor racquetball.

Civic Center - Bluebonnet Rooms
Large banquet-style space that accommodates up to 300 guests. This space features a hardwood dance floor, full kitchen, built in audio/visual system, Bluetooth connectivity, microphones, two 72' televisions and a hi-resolution projector. This venue is ideal for corporate conferences, meetings presentations, job fairs, weddings, family gatherings, and anniversary celebrations.

Civic Center - Pecan Rooms
The Pecan Rooms are conference rooms which accommodate a maximum of 150 guest. These rooms feature natural lighting courtesy of large windows, vinyl flooring, counter tops, sinks and cabinets.

Corner Theater - Black Box
The Corner Theater is a Black Box theater style performance center. This space is designed for theatrical performance, rehearsals, film screenings,dance/music recitals, concerts, and talent shows. The Black Box has a maximum seating capacity of 155 guests. This venue also offers: a box office, concession, lobby, two dressing rooms and restrooms.

Amphitheatre
The Amphitheater is an outdoor pavilion that is used to host special events and weddings. It provides seating for a maximum of 2,000 guests. The amphitheater is available for use year around.
Link back to DeSoto Civic and Recreation Center