CUNY Law - Virtual Tour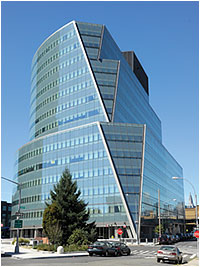 Welcome to the CUNY School of Law Virtual Tour

Enjoy 360-degree panoramic views of CUNY Law and our neighborhood in Long Island City. If you can't visit us in person, this virtual tour will show you many areas of our law school. To start, our building was named one of 50 Most Impressive Law School Buildings in the World by Best Choice Schools. Whenever you see a CUNY Law logo, like the one below, click on it to learn more about that part of the law school. Enjoy the tour!

Welcome to CUNY School of Law
CUNY School of Law is a dynamic and diverse community of faculty, staff and students intent on creating positive societal change. We believe in supporting each other, and the moment you enter the building, you will feel our strong community spirit. Located in Long Island City, CUNY Law is at the center of a vibrant neighborhood in Queens, just minutes away from midtown Manhattan by train.
Additional Information Related To This Image:

The Beacon
The Beacon is a bright, open space on the first floor that is ideal for preparing for your next class, such as Civil Procedure or Contracts: Law in a Market Economy, taught in classrooms right around the corner. The art installation, Seeing the Forest in the Trees, brings nature indoors, creating a serene environment. The words imprinted on the pillars reflect the values we aspire to. Taken together, these elements provide an inspirational boost to continue to strive for social justice, in the classroom and in the field.
Additional Information Related To This Image:

Community Meeting Space
Our second floor is a hub of activity throughout the day, where people can bump into one another for an impromptu conversation or get together for a study session or cup of coffee from our resident café. The floor-to-ceiling windows make it a vibrant, appealing place to connect with others or just sit and think.

Dave Fields Auditorium
The Dave Fields Auditorium, our largest gathering space, is where our students, faculty and staff come together to attend conferences and hear from speakers on myriad legal issues impacting the communities that CUNY Law students and alumni serve. The auditorium has been host to a U.S. Supreme Court Justice, former Black Panthers and civil rights leaders, world leaders, including Kofi Annan, numerous social justice conferences and major student events. It is also where our first-year class learns the principles of Law, Liberty, Equality and Due Process.
Additional Information Related To This Image:

Day-to-Day Life
The law school has plenty of areas to socialize or study, such as this third floor space. Our IT help desk is at the center of the action, between individual study rooms and classrooms that line the boulevard. Just down the hall are treadmill desks and the student lounge, complete with a small pantry and a ping pong table to work off some steam. Gender-neutral restrooms also occupy every floor of the law school. Conference rooms are often used for group study sessions.
Additional Information Related To This Image:

The Commons
While there are many places to get food nearby, students, faculty and staff often bring their own lunch, storing it in the pantry. As students prepare their meals, a faculty member may be doing the exact same thing. Next thing you know, you might be engaged in a discussion about your classwork or just day-to-day life. Common areas are located on the fourth, fifth and sixth floors of the law school.
Additional Information Related To This Image:

The Classroom Experience
At CUNY Law, your education will be personal. Our 7:1 student-to-instructor ratio means professors are accessible. We strive to keep classes small, ensuring you ample time with your professor and your classmates. Our faculty members are committed to knowing you and your learning style and needs. Guest speakers and practitioners are a regular part of your experiential learning, such as Judge Rosemary Barkett in this seminar for the Human Rights and Gender Justice clinic.
Additional Information Related To This Image:

Main Street Legal Services
CUNY Law's clinical program is one of the best in the nation. All students participate in a clinical experience to complete their legal training. You'll work either in one of our in-house clinics through Main Street Legal Services, our public interest law firm environment, or in one of our practice clinics throughout New York City. Either way, you will learn an enormous amount from your professors, classmates, the clinic staff and by working with your clients. In addition, throughout your time at CUNY Law, you will come to rely on the student affairs staff, who are here to provide you with the support you need to succeed.
Additional Information Related To This Image:

Law Library
Our library provides online research guides, database training and on-demand research tutorials, all created specifically for CUNY Law students by our librarians, who serve as both faculty and staff. The librarians teach legal research training and support our public interest law orientation and innovative curriculum oriented towards the public interest, in this 22,500-square foot space awash with natural light. Group study rooms line both sides of wide study spaces. Just try not to get distracted by the amazing view of the Manhattan skyline.
Additional Information Related To This Image:

The LIC Neighborhood
Just a 15-minute walk from the law school is Gantry Plaza State Park and a spectacular view of Manhattan. This waterfront area, located on the East River bank, is one of the best parks in New York City. Right across is the United Nations headquarters, a building you are likely to visit at some point during law school, as an intern, a conference attendee or as a human rights advocate. Long Island City is an excellent gateway to vibrant and diverse neighborhoods throughout Queens and Brooklyn, where you might live.
Additional Information Related To This Image:
Link back to CUNY Law