College of DuPage - Virtual Tour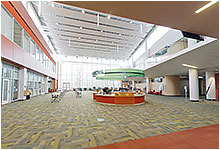 College of DuPage comes to you through a virtual tour! Visit our state-of-the-art Health Sciences Center (HSC) using an interactive 360-degree, interactive mapping tool at your own pace. Highlights include visits to the four operating rooms, the Dental Clinic and the on-site four-bed sim hospital. Tour our phlebotomy, sonography, radiography, nuclear medicine labs and more.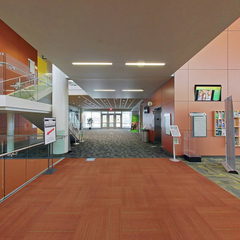 Student Services Center - SSC - Atrium Main Floor
Welcome to the Atrium of the Student Services Center at College of DuPage! The Atrium is the enrollment hub of the College. Take a break in between classes, meet with friends and get your questions answered. Our student services departments are conveniently located around the perimeter and staff members are available to help guide students through the enrollment process.
Additional Information Related To This Image:
---
Student Registration Services
We are available to assist our students with any registration questions, including adding or dropping classes, as well as processing cooperative agreements, joint agreements, late withdrawals, medical and tuition appeals. Contact us at (630) 942-2377 or
registration@cod.edu
.
---
---
Admissions and Outreach
College of DuPage can help you achieve your academic goals, but the first step of applying is up to you. College of DuPage offers a variety of opportunities for every interest, academic or career goal. Gain the skills you need to become an innovator, put your your knowledge to the test or see the world all in one place.
---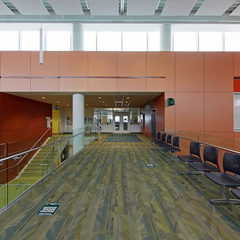 Student Services Center SSC - Atrium Third Floor
The Nursing and Health Sciences Building creates an environment for collaboration and innovation for our students, faculty, staff, alumni and our campus and community partners. In the self-guided tour visit our state of the art laboratories, classrooms and learn more about our health programs.
Additional Information Related To This Image:
---
Veterans Services
For over 50 years, College of DuPage has provided educational resources to veterans, members of our armed forces and their families. As a veteran on campus, you'll have access to all of the resources you need to succeed in community college. Our Veterans Services office is available to help you with everything from campus tours and new student orientation sessions exclusively for veterans to referrals for local community resources.
---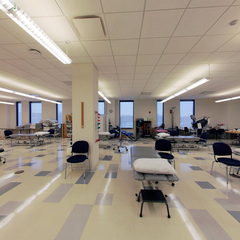 Physical Therapist Assistant Lab - HSC 2126
Earn an Associate's in Applied Science degree when you graduate from a Commission on Accreditation Physical Therapy Education (CAPTE) accredited program. Program graduates are eligible to take the state licensure examination. The PTA program core courses are spread sequentially over five semesters. Each course is offered only once per year. PTA can lead to a career working in a variety of settings, including hospitals, out-patient clinics, skilled care facilities, rehabilitation hospitals, school systems and home health care agencies. Need to strengthen your physical therapist assistant (PTA) application? Attend a program Advising session. (See our webpage www.cod.edu/pta for details)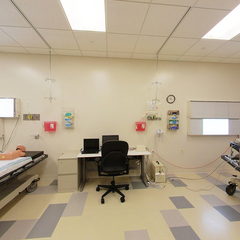 Respiratory Care - HSC 2114
Respiratory Therapy is a highly specialized area in medicine where the focus is on a patient's lungs, airway and cardiopulmonary status. Respiratory therapists work with an array of patient types, some with chronic conditions like asthma, COPD & cystic fibrosis and also in acute and emergency situations where patients have an advanced airway and need to be placed on a ventilator. Respiratory therapists can specialize in critical care, neonatal & pediatric, pulmonary function testing and sleep medicine. Employment can range from hospitals, outpatient physician clinics, sleep labs, home health and long-term care.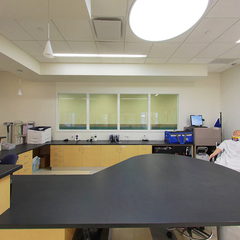 Nursing Simulation Hospital - HSC 2145
Are you interesting practicing patient care in a state-of-the-art simulation hospital? The Associate Degree Nursing program allows students to provide simulated patient care, under the direction of their nursing faculty. The simulation hospital has four patient care rooms where students can apply their knowledge in realistic clinical simulations. The Nurses' Station has a documentation area, a crash cart, and a fully functioning Pyxis, which allows students to practice safe medication administration techniques.
Additional Information Related To This Image: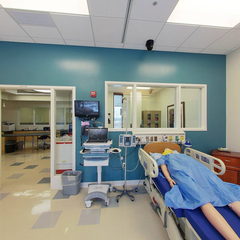 Nursing Simulation Hospital Room
Welcome, little one! The Simulation Hospital has a fully functioning birthing room, including a mannequin that can give birth, and a newborn with hi-tech abilities. Students are encouraged to problem solve many different clinical scenarios that are frequently encountered in the clinical setting. Students who practice patient care management in this simulated birthing room develop the skills and confidence to manage patients in an obstetric setting.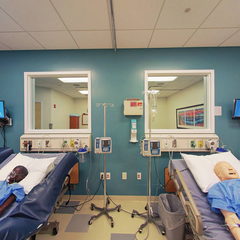 Simulation Center - HSC 2136
The Simulation Center, a two-bed unit that can be used for acute or long-term care simulations, provides students with an opportunity to manage two simulated patients at once. Like the Simulation Hospital, each bed the Simulation Center has all of the equipment that a nursing student would find in a hospital setting, including IV pumps, equipment for oxygen therapy, and wound care. Nursing students enjoy collaborating with each other, as well as other Health Science students, to care for patients in these simulated settings.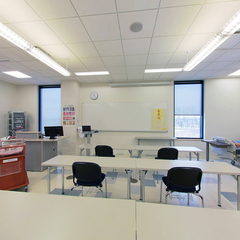 Nursing Lab - HSC 2141
Learning and practicing clinical skills is an essential part of nursing education. Two skills labs each provide seating for up to 16 students, and 6 beds with mannequins. Each mannequin allows students to practice physical assessment, and essential skills such as medication administration, injections, and intravenous therapy. Mobile computers are available at each bedside to facilitate documentation through EHR Tutor, an online documentation system. In addition, an Open Lab, with 7 additional mannequin stations, is available for students to practice their skills.
Additional Information Related To This Image: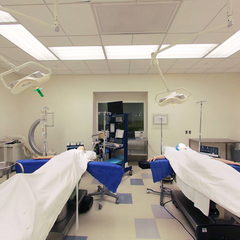 Operating Room - HSC 2128
College of DuPage has the state-of-the art mock operating room environment. This environment is designed to represent a real-world operating room that provides instruction in one of the following programs of study: anesthesia technology, operating room technician, central sterile processing distribution technician, surgical technology, and surgical assisting.
Additional Information Related To This Image: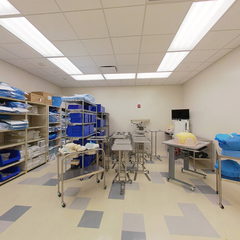 Surgical Processing Room - HSC 2130
The state-of-the art mock operating rooms have a fully functional anesthesia machine, overhead lights, real scrub sinks, and equipment and instrumentation to provide students with a real-world experience of perioperative arena careers.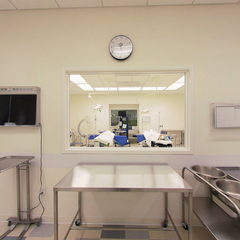 Operating Room - HSC 2129
The learning environment allows students to gain the knowledge and skills necessary to perform preoperative, intraoperative, and postoperative functions.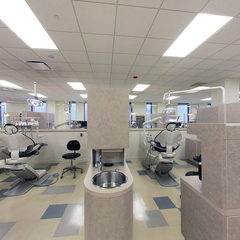 Dental Hygiene Clinic - HSC 1122
The Dental Hygiene Clinic has fifteen full operating state-of-the art dental operatories. Each operatory contains a modern dental chair with a built-in ultrasonic scaler, LED overhead dental light, automatic handwashing station and a digital patient charting system. The clinic also has a sterilization room for processing instruments and a darkroom to develop dental film radiographs.
Additional Information Related To This Image: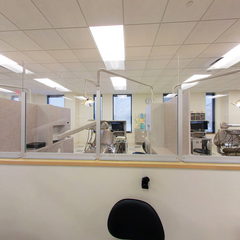 Dental Hygiene Clinic Cubicle Unit
Each Dental Hygiene Operatory contains state-of-the-art dental equipment. All of the operatories also include a computer for access to patient electronic records. Each operatory also contains a modern dental chair with a built-in ultrasonic scaler, a LED overhead dental light and an automatic handwashing station.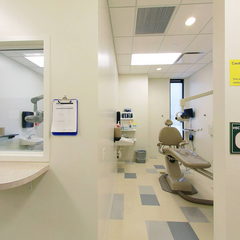 Dental Radiography - HSC 1118
The Dental Hygiene Radiology Rooms contain equipment to expose traditional film radiographs along with digital dental radiographs. A digital panoramic x-ray machine is also part of the dental radiology area.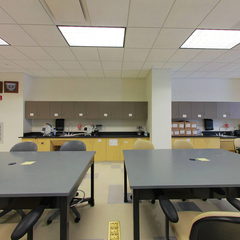 Dental Lab - HSC 1108
The Dental Hygiene Lab is a multifunction lab/Smart Classroom. Dental Hygiene Students take courses such as Dental Materials, Dental Anatomy, Dental Hygiene Theory and Principles in Dental Hygiene in this lab. A variety of dental lab equipment including model trimmers and vacuum formers are used in the lab.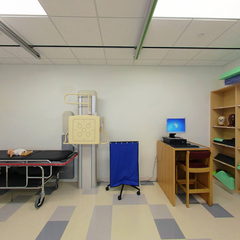 Radiography Lab - HSC 1105 E
Diagnostic Medical Imaging Radiography (DMIR), or X-ray, involves the administration of ionizing radiation to produce images of the human body for diagnostic purposes. Radiographers take X-rays (radiographs) and perform a variety of diagnostic imaging procedures.
Additional Information Related To This Image: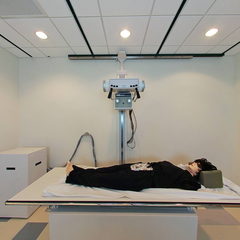 Radiography Lab - HSC 1105 C
In the Radiography program, students learn the skills necessary to produce high-quality diagnostic images of patients, as directed by physicians who are qualified to order and perform such procedures. In addition, students provide short-term patient care and practice radiation safety. Radiographers work in both clinical and hospital environments, primarily within diagnostic medical imaging (radiology) departments, but also in other areas such as emergency rooms, operating rooms, nurseries or patient rooms within a hospital.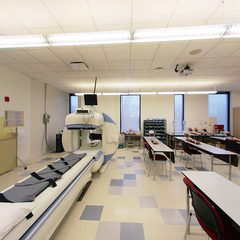 Nuclear Medicine Lab - HSC 1139
In the Diagnostic Medical Imaging Nuclear Medicine (DMIN) program, students learn the skills to produce high-quality diagnostic images of patients. Nuclear Medicine students are instructed to deliver compassionate patient care, prepare and administer radiopharmaceuticals, operate scanning equipment, perform computer acquisitions, analyze data, and assist the physician when necessary. The curriculum for this 15-month program includes both didactic and clinical portions. Upon successful completion of the program, the graduate is eligible to sit for a national certification exam and is then is able to work as a Nuclear Medicine Technologist throughout the United States.
Additional Information Related To This Image: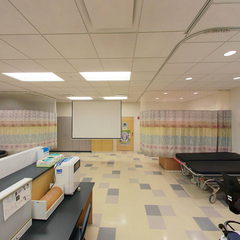 Sonography Lab - HSC 1137
Do you enjoy learning about anatomy and physiology? Our programs provide in-depth training on how to use ultrasound to visualize normal and abnormal anatomy in the human body. Diagnostic medical sonography (ultrasound) is a clinical discipline involving the use of equipment that produces soundwaves that create images of human anatomy for medical interpretation and diagnosis by a radiologist.

College of DuPage offers three sonography program options that prepare you for employment as an entry-level sonographer in hospitals and clinics - through a combination of class, lab and clinical learning.
Additional Information Related To This Image: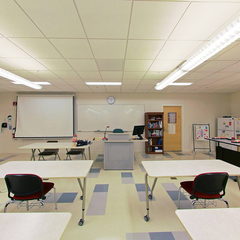 Phlebotomy Lab - HSC 1119
Our health science room allows us to practice the skill sets for Phlebotomy, EKG and Lab Science. The phlebotomy students will start off practicing on artificial arms and gradually progress to patient draws during lab. The lab is set up to provide students the capabilities to perform Phlebotomy, EKG's and lab testing in a similar healthcare setting.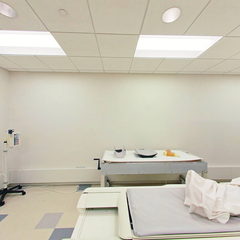 CT Scanner Room - HSC 1326
The Diagnostic Medical Imaging – Computed Tomography Certificate Program at College of DuPage is an advanced, 2-semester certificate program. Students must hold active national certification and registration from the American Registry of Radiologic Technologists (ARRT) in Radiography and maintain a current license in medical radiation technology from the Illinois Emergency Management Agency (IEMA), Department of Nuclear Safety. College of DuPage is the first community college in the nation to own a General Electric CT Scanner, located in a state-of-the-art classroom on campus that will provide students with exceptional hands-on training. Applicants need a background in either Radiography or Nuclear Medicine Technology to be eligible for admission. Come explore what an additional certification can do for your career!

College of DuPage is the only community college in the country to house a computed tomography (CT) scanner.

Students in radiation therapy, radiography and nuclear medicine get hands-on experience using the CT scanner, making them more attractive to employers when they enter the job market.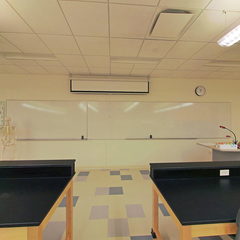 Biology Lab
Our biology classes study organisms from their behavioral, ecological, hereditary and evolutionary perspectives. An inquiry-based approach to understanding biological processes is emphasized. Students explore the relevance of biology to contemporary issues in human society.

Learn about the structure and function of the human body in our Anatomy classes and mechanisms for maintaining homeostasis within it. Includes the study of cells, tissues, and the integumentary, skeletal, muscular and nervous system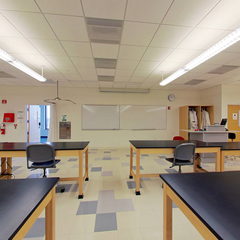 Chemistry Lab
Topics include: measurement, the mole concept, composition and reaction stoichiometry, types of reactions, thermochemistry, atomic theories, chemical periodicity, bonding, molecular geometry, and properties and theories of the gaseous, liquid, and solid states. Laboratory includes both qualitative and quantitative analysis.

We cover chemical kinetics, equilibrium, acid-base theory and equilibria, solubility equilibria, electrochemistry, thermodynamics, coordination chemistry, and nuclear chemistry.
Link back to College of DuPage