Cleveland Clinic - Virtual Tour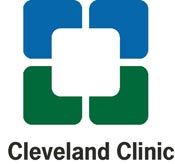 Welcome to this virtual tour of The Cleveland Clinic. Have a look around this state of the art facility located in Cleveland Ohio. We provide compassionate, highest quality healthcare in a setting of education and research. Our patient visits average more than 4 million each year.

Miller Entry Plaza
Serving as the new "front door" to Cleveland Clinic, the Sydell and Arnold Miller Family Pavilion is connected, via tunnel, to parking garage #1. Convenient close-in valet parking is available.
Additional Information Related To This Image:
---
Valet Parking Hours
Monday - Friday 5 a.m. - 9 p.m.
Saturday and Sunday 8 a.m. - 4 p.m.
---
---
Parking Garage #1
The parking garage is connected via tunnel to the Miller Family Pavilion.
---

Main Lobby
The gateway to the entire hospital, the lobby is designed to make everyone feel welcome. Floor-to-celing windows and unique art installations add light and color to this large, bright space. Attendants in red coats help visitors and provide directions. Access is available through an underground tunnel directly linked to parking garage #1.
Additional Information Related To This Image:
---
Concierge Desk
Concierge service/desk staff can offer appointment information, directions, and more.
---
---
Attendants
Attendants in red coats help visitors and provide directions.
---

Glickman Great Hall
The Great Hall serves as the front door to the Glickman Tower. At the end of the hall, a bay of elevators offers access to ten floors of urology and nephrology services.
Additional Information Related To This Image:
---
Origami Crane Painting
It is a Japanese tradition to fold a thousand cranes for someone who is sick to wish them a long life, prosperity, and good life.
---

Hybrid Operating Room
Hybrid operating rooms allow for true multidisciplinary care. Advanced imaging capability allows surgeons and interventionists to work to perform multiple procedures in one room, including open-heart surgery and angioplasty.
Additional Information Related To This Image:
---
Imaging Equipment
Imaging Equipment within the operating room allows patients to undergo multiple procedures at one time.
---
---
The Surgical Team
The surgical team and nurses work closely with the surgeon to provide the best care and outcomes.
---

Patient Suite - Miller Building
These private, clean, light filled rooms have rich finishes and artwork to make patients feel like guests in a well appointed hotel. Medical equipment is readily accessible, but neatly hidden behind doors. Flat-screen TVs and pullout sofas accommodate family members.

Global Patient Services
Full-service department dedicated to help patients from all around the world feel at ease when traveling to Cleveland Clinic for care. At check-in, patients are warmly welcomed and introduced to finical counselors and patient service specialists, who arrange translation services during medical appointments, assist with travel arrangements and offer cost estimates.
Additional Information Related To This Image:
---
Patient Service Specialist
---

Lerner Research Institute
The Lerner Research Institute is home to all laboratory-based, translational and clinical research at Cleveland Clinic. Our mission is to understand the underlying causes of human diseases and to develop new treatments and cures. We are an integrated research community consisting of numerous departments and centers.
Additional Information Related To This Image:

The Cole Eye Institute
Complex eye care with optical dispensary, as well as pioneering treatments for complex vision-threatening disorders. Patients enter the Cole Eye Institute through a light-filled open atrium of curved walls and mosaic tile floor.
Additional Information Related To This Image:
---
The Carl and Margie Tippit Diagnostic Suite
Exam rooms feature special camera and ultrasound equipment.
---
---
The James P. Storer Teleconference Center
Features tele-video technology for training future eye specialists.
---
---
Paul and Carol David Opthalmic Surgery Pavilion
Several operating rooms feature viewing areas for family members and visiting physicians.
---

Ronald McDonalds Family Room
A comfortable place for families needing to stay close to their child's bedside. Includes a TV, lounge and dining area with beverages and snacks — open 24 hours a day, staffed by caring volunteers 9 a.m. - 9 p.m.

Taussig Family Resource Center
Located on the second floor of the Taussig Cancer Research Institute is the Patent Resource Center which provides complimentary computer and internet access and printed informational brochures for patients and their caregivers. You can stop in to talk to a nurse about your cancer questions.
Additional Information Related To This Image:
---
Free Literature
Browse the free literature about cancer and related resources.
---
---
Attentive Staff
Stop in and speak with a nurse about your cancer-related questions
---

The General Grille Cafeteria
The General Grille cafeteria is open daily from 6:30 a.m. to 6:30 p.m., and located on the Lower Level. During non-serving hours, there is a variety of food and beverage items available for purchase.

Breakfast
Monday - Friday - 6:30 a.m. - 10:30 a.m.
Saturday - Sunday - 7 a.m. - 11 a.m.
Lunch
Monday - Sunday - 11 a.m. - 1:30 p.m.
Dinner
Monday - Sunday - 5 p.m. - 6:30 p.m.
Link back to Cleveland Clinic