Malesardi Quad
Bucknell's Malesardi Quad is the heart of campus. With its sweeping views of the Susquehanna River Valley and Appalachian Mountains, this is where our students have some of their most memorable experiences. As a first-year student, you'll surround the Quad with your fellow Bucknellians as part of our traditional candlelighting ceremony to welcome new students to Bucknell. As seniors, you'll pass over the Bucknell seal and through a crowd of 6,000 people on your way to receiving your diploma. And in between, the Quad will be a place to study, engage, converse, play and, sometimes, just sit back and relax.

Bertrand Library
Bertrand Library hums with activity day and night. You'll have access to computers, books, maps, journals, films, databases, special collections and digital equipment. Plus, there's a café so you can fuel up and stay focused on your work.

Uphill Campus and Freas Hall
Near the entrance to campus, you'll find this grassy hill overlooking the athletics and recreation facilities and the Elaine Langone Center, which is home to campus dining venues and student gathering spaces. You'll get a good workout going to and from the gym or cafeteria to your classes and residence hall.

Elaine Langone Center
This space on the ground floor of the Elaine Langone Center is a popular gathering spot where you can eat, study, collaborate, hang out and meet with faculty. Grab lunch at the Bison dining area next door, and sign up for student activities in the busy hallway.

Roberts, Trax and Kress Quad
These three residence halls serve as a campus "neighborhood" primarily for Bucknell sophomores. A new outdoor study and meeting space with benches and café tables was created in a 100-year-old grove of trees encircled by Roberts, Trax Hall, Kress Hall and the Carnegie Building.

Rooke Science Building
Be sure to pan up and down on this image to see the beautiful flooring and architecture. This building is the campus center for biology, chemistry and cell biology/biochemistry classes and labs. The top floor of the building includes a greenhouse.

Taylor Hall
Bucknell's very first building, historic Taylor Hall, is home to our Freeman College of Management, which offers six majors:  accounting, business analytics, finance, global management, markets, innovation & design and managing for sustainability.  Also located in Taylor Hall is the <a href='https://www.bucknell.edu/academics/freeman-college-management/experiential-learning' target='_blank'><u>Center for Experiential Learning</u></a>, which provides students with various opportunities to go beyond the classroom and into the real world of management as it's practiced across a wide spectrum of industries.

Breakiron Engineering
Breakiron Engineering Building, along with Dana Engineering, is home to Bucknell's College of Engineering, which offers eight majors and dual degree programs in engineering/management and engineering/arts & sciences.

Academic West
Bucknell's newest academic building, Academic West, features 70,000 square feet of classrooms, labs, faculty offices and gathering spaces where you can collaborate with your classmates and professors. The LEED Silver-certified building includes smart classrooms with media, lighting and projectors, along with a green roof.

Rooke Chapel
Rooke Chapel is the setting for Protestant and Catholic campus worship services, weddings, campus ceremonies and the annual Christmas Candlelight Service. The University Chaplain's office and meditation chapel are located here. Interfaith gatherings and a variety of religious services are held at other spaces on campus as well.

Weis Center
Bucknell's Weis Center for the Performing Arts is a 1,200-seat performance hall with exceptional acoustics and striking architecture. The center's annual schedule includes 30 professional performances spanning the genres. Notable authors and experts speak here several times a year.

Christy Mathewson - Memorial Stadium
Named in honor of Baseball Hall of Famer Christy Mathewson, who attended Bucknell, and in memory of Bucknell's veterans, the stadium is home to the Bison football team, which plays in the Patriot League. Bucknell's 27 varsity teams compete in NCAA Division I athletics, with 23 teams competing in the Patriot League.

West Fields
Our West Fields athletic complex includes Holmes Stadium, a natural-pitch soccer venue, and Graham Stadium, a synthetic-turf venue for field hockey and women's lacrosse. Depew and Becker fields for baseball and softball are located nearby, as is the Bucknell Golf Course.

Vedder Hall
Vedder Hall is one of several residence halls on campus where first-year students live. In later years, students have, in addition to standard residence hall options, on-campus options including suite- and apartment-style living, themed Affinity Houses and Greek life housing. A limited number of seniors can receive permission to live in downtown Lewisburg.

Seventh Street Cafe
Our on-campus coffee shop features an assortment of coffee drinks, teas and smoothies, along with a yogurt bar, snacks and a casual atmosphere for studying, meeting up with friends or chatting with a professor. Musical performances and poetry slams are held here in the evenings.

The Grove
This wooded area is a historic part of campus and a beautiful spot in every season. Students and squirrels alike enjoy the hillside and trees, some of which were already mature trees when Bucknell was founded in 1846.

Susquehanna River
The Susquehanna River flows by the east end of Lewisburg and beside campus. Enjoy this view from the Market Street Bridge, which takes you from downtown across the river to some local favorites including The Fence, where you can order fish and fries from your car or canoe.

Barnes & Noble at Bucknell University
Our campus bookstore is located in the heart of downtown Lewisburg. Buy your books, get some Bucknell gear and have coffee with friends in this restored hardware store across from the Campus Theatre and near local cafés. Be sure to pan all around to see the architecture of this special building.

Campus Theatre
The historic art deco Campus Theatre in downtown Lewisburg shows first-run features, documentary series and classic films. Professors hold film/media relations classes here, and the University hosts performances in the beautifully restored space.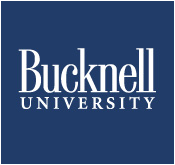 < CLICK AND DRAG TO ROTATE 360° IMAGES >
Find and click hotspots like these inside the 360° images
and in the toolbar in upper left for more information and functionality: