Baycare - St. Joseph's Hospital North - Virtual Tour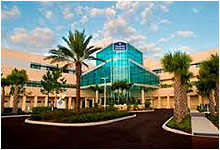 St. Joseph's Hospital-North, located in Lutz just north of Tampa, is a full-service hospital offering an emergency department, intensive care, surgical services, obstetrics, cath lab, imaging and more, in a peaceful, healing and family-centered environment.

Main Lobby
Additional Information Related To This Image:
---
Advanced Medical Care in a Healing Environment
Welcome to St. Joseph's Hospital-North: a hospital with 75 years of experience. It is our goal to provide the best possible patient experience. To do that, we've created a comfortable, healing environment staffed with people who truly care for the personal well-being of our patients. Our team is empowered to make every effort to ensure that the experience here is as pleasant as possible, and the environment is designed to be both efficient and comforting.
---
---
2017 Statistics
Founded in 2010; 108 beds; 7,814 discharges; 404 births; 42,869 ER visits; 4,467 outpatient surgeries; 463,414 lab tests
---

Healing Garden
St. Joseph's Hospital-North coexists with a landscape of open space that provides a habitat for wild life and natural views for patients. Scenic healing gardens invite visitors to an outdoor oasis for meditation and promote well-being. A neutral color palette sets the stage for therapeutic design that reflects nature's finest wonders. Our goal is to model environmental stewardship, innovation and corporate responsibility.
Additional Information Related To This Image:
---
Patient-Focused Healthcare
At St. Joseph's Hospital-North it is our goal to create a healthy environment for the community that we serve. Featuring an environmentally friendly building and a relaxed and peaceful atmosphere, including our healing garden, we are dedicated to setting a new standard of care in the Tampa Bay area.
---

Garden Atrium
Nestled among cabbage palms, live oak and saw palmetto, St. Joseph's Hospital-North utilizes architectural elements that promote healing. Soothing elements of the outdoors are brought indoors creating a calm, peaceful, environment. Sunlight spills into the Garden Atrium, a soaring entryway of glass ceiling panels and steel beams. The environmentally friendly building is made of materials that support energy conservation and clean air with low chemical emissions and recycled content, materials and resources.
Additional Information Related To This Image:
---
---

Operating Room
Evidence-based design featured throughout the $225 million, 350,000-square-foot facility ensures compassionate, patient-centered care in an environment specifically designed for successful clinical operations. Patients will enjoy a service-oriented experience with a singular focus: providing expert, compassionate care in a state-of-the-art, technologically advanced environment.
Additional Information Related To This Image:
---
Advanced Surgical Care
At St. Joseph's Hospital-North, our
advanced surgical care
includes experienced surgeons, advanced nursing care and patient monitoring as well as spacious, private rooms designed for peace, calm and healing. We also offer a wide range of
robotic-assisted surgical procedures
.
---

Emergency Department
For the St. Joseph's Hospital-North community, high-quality emergency services close to home means convenience and peace of mind. The full-service emergency department at this all-digital facility includes 30 private rooms for adult and pediatric patients, plus a special fast-track area that provides expedited treatment for minor emergencies. Each room also comes with its own flat screen television.
Additional Information Related To This Image:

Twigs Café
Twigs Café is a full-service restaurant that offers a variety of fresh dining options, including a salad bar, chef's selections, homemade pizza, pastries, desserts and gourmet coffee. Indoor and outdoor seating are available, as is to-go ordering and room service for patients and their guests. Vending machines are located on each floor and are always accessible. Snacks can also be purchased at Bamboo Gifts.
Additional Information Related To This Image:
---
Twigs Café
Twigs Café
is popular for people outside of the community for the delicious, home-cooked food, nutritious menu and seasonal ingredients.
---

Mom/Baby Room
Mom and baby can recover together in one of 12 private suites beautifully outfitted with dark chocolate cabinetry and wood floors, plush fabrics and mosaic glass tile. In addition to large, high definition TV's, each suite includes an individually controlled entertainment system, a large bathroom with a full-size shower, an upholstered rocking chair and an in-room family area to accommodate an overnight guest.
Additional Information Related To This Image:

Patient Room
Spacious, all-private suites with private bathrooms provide comfort and help accommodate visitors who can be collaborators in care. Each suite features the exact same floor plan, allowing staff to provide safe, efficient patient care. Tranquil views of nature and gentle lighting help alleviate patient stress levels and pain. Noise reduction features -- like carpeted hallways, noise-absorbing ceiling tiles and sound barriers add to the calm, healing atmosphere.
Additional Information Related To This Image:
Link back to Baycare - St. Joseph's Hospital North