AdventHealth Cancer Institute Hinsdale - Virtual Tour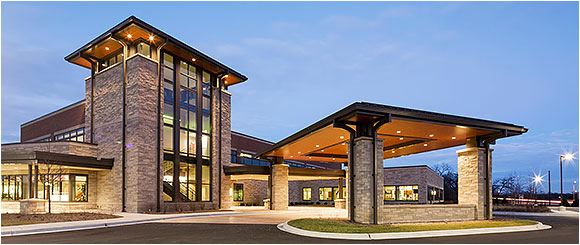 Welcome to the Virtual Tour for AdventHealth Cancer Institute Hinsdale.

Main Lobby
Welcome to the AdventHealth Cancer Institute Hinsdale, your destination for highly personalized care within a state-of-the-art healing environment. Our facility houses comprehensive outpatient lab and imaging services and a comprehensive, multidisciplinary cancer care center in one location for your convenience.
Additional Information Related To This Image:
---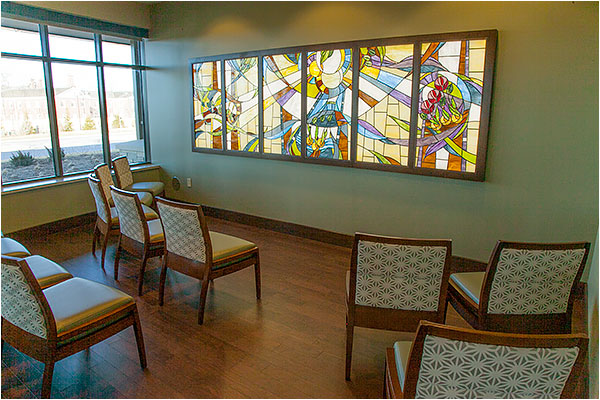 Chapel
At the heart of our Main Lobby is our Chapel, featuring stained glass inspired by a theme of faith, hope and love.
---
---
Valet Parking Available
We are conveniently located at 294 and Ogden and offer ample, close parking with valet service available.
---
---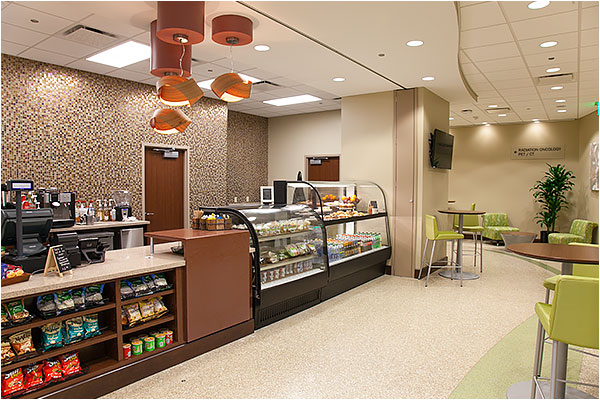 On-Site Café
An on-site Café is available for your convenience, offering coffee, smoothies, sandwiches, soups, salads and other treats for purchase.
---
---
Floor to Ceiling Windows
Natural light bathes the facility and showcases the healing art and furnishings.
---

Full-Service Lab
Our on-site Lab offers convenient, comprehensive services for all of your testing needs. Our technicians are gentle and keep you well informed regarding their role in your care.

Digital Mammography
We offer the latest in Digital Mammography with Tomosynthesis on our second floor. The latest in 3-D imaging technology, digital breast tomosynthesis can provide a higher diagnostic accuracy compared to conventional mammography.
Additional Information Related To This Image:
---
PET/CT
The latest, state-of-the-art equipment and technology
Low Radiation dose
---
---
Bone Densitometry (DEXA Scan)
Detects osteoporosis and osteopenia
Fast and painless
---
---
Diagnostic General X-Ray
The latest, state-of-the-art equipment and technology
Digital cesium detector
Low radiation dose
---
---
Stereotactic Biopsy
Captures small lesions, less invasive
Outpatient procedure can be completed in less than an hour
Breast Nurse Navigator available to guide you through the procedure
---

Medical Oncology Lobby
Our Medical Oncology Center provides complete cancer care for patients diagnosed with cancer or blood disorders. Our clinic contains 17 exam rooms, two private consultation rooms, a lab, an infusion center and financial counseling specialists to help guide you through the complex insurance process. Trained Patient Nurse Navigators are your advocates as you move through the course of physician appointments, treatments and tests.

Medical Oncology Clinic
Visit your physicians, complete testing and treatments in one convenient location. Our Medical Oncology Clinic is designed to enhance the ability of your physicians to collaborate with multidisciplinary medical staff members regarding your care to help them develop personalized treatment plans that address your unique needs.

PET-CT Scanning
Our state-of-the-art PET/CT machine is one of the most sensitive cancer imaging systems on the market today. This advanced scanner is designed to help accurately track cancer during a shorter timeframe of scanning.

Radiation Oncology Clinic
Located adjacent to our linear accelerators, seasoned nurses and highly-skilled physicians in our Radiation Oncology Clinic offer the latest treatment options to help ensure the highest quality of life outcomes.

LINAC Radiation
Our state-of-the-art Radiation Oncology Department pairs two Varian TruBeam Linear Accelerators with a team of devoted and well-trained physicians, nurses and therapists committed to highly-personalized and compassionate patient care.
Additional Information Related To This Image:
---
CT Simulation
CT simulation is a procedure used during the treatment planning stage to identify the exact location and size of the area that needs treatment.
Coupled with LAP movable lasers, the simulation process is precise and efficient
80 cm Wide-Bore to accommodate patients and the hardware required for treatment
MicroVoxelTM technology yields detailed images necessary for accurate treatment planning
---
---
HDR
Allows for Brachytherapy treatments where the radioactive source is in close proximity to the area of treatment
Housed in its own suite, this allows for treatments to be performed at the patients' convenience
Confirmation of position accuracy is built in with an internal camera system
Multiple safety features included, such as an on-board radiation detector and an emergency retract system
---

Infusion Center
Supporting every aspect of your physical, emotional and spiritual well-being, each private infusion suite includes a lounge chair, guest chair, flat screen TV, free Wi-Fi, temperature and lighting control, large windows with views of the forest preserve and beautiful artwork. Our Infusion Center is supported by an oncology-specialized pharmacy.

Formal Physician Collaboration
SYNERGY is our high-tech conference room thoughtfully designed to cultivate collaboration between on-site physicians and their colleagues to help develop your personalized plan of care toward the best possible outcomes. Weekly Cancer Conferences unite the expertise of this multidisciplinary team, which includes Diagnostic Radiologists, Pathologists, Medical Oncologists, Radiation Oncologists, Interventional Radiologists, Surgeons, Plastic Surgeons, Cancer Care Nurses, RN Navigators, Genetic Counselors, Social Workers and Registered Dietitians.
Link back to AdventHealth Cancer Institute Hinsdale