Medical Center of Trinity - Virtual Tour

Welcome to the Medical Center of Trinity Virtual Tour. We hope you will take the time to look around and view all the 360 images. Remember to click and drag your mouse over the images to rotate them. Also look for hotspots within the images to interact with for more compelling information.

Main Entrance
Welcome to Medical Center of Trinity, your new 100% private room hospital serving Pasco, Pinellas, and Hillsborough Counties. As healthcare providers, our mission is simple. We are here to care for the health of our community and we achieve this through a variety of programs including:

Emergency Care
Surgical Specialties
Heart and Vascular
Cancer Care
Neurosurgery
Primary Care
Men's Health
Women's Health
Obstetrics and NICU
Spine and Orthopedics
Behavioral Health

A dedicated traffic light on State Road 54 provides direct access to the medical campus. To learn more about Medical Center of Trinity, call 727-834-5630. Click here for driving directions to Medical Center of Trinity and any of our satellite campuses.

Information Desk
The Information Desk is positioned directly at the main entrance and is surrounded by comfortable seating immersed in soothing earth tones and contemporary décor. To create a private and secure environment for our patients and guests, Visitor Identification Badges are distributed at the desk and must be worn by all visitors at the facility.

Registration
For the privacy of our patients, a dedicated Registration entrance is located to the right of the main entrance for all non-emergency visits. Identified as 'Registration,' this entrance offers convenient, short term parking and transport assistance. Seating and flat panel TVs are available in the waiting area for visitors and guests.

Main Lobby
Guests and visitors can enjoy a relaxing walk along the promenade which features comfortable seating and floor-to-ceiling windows for plenty of natural light. Guests can access the gift shop, visitor elevators, conference center and our dining area featuring a variety of breakfast, lunch and dinner options throughout the day.
Additional Information Related To This Image:
---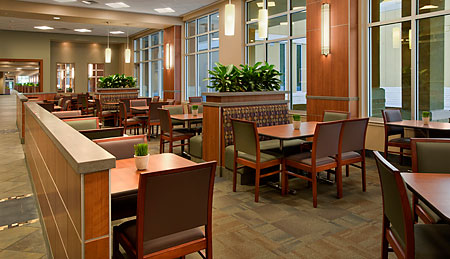 Dining Options:
Cafe - Breakfast, lunch and dinner
Subway
Coffee shop

Photo Courtesy of Michael Peck
---

Emergency Waiting Room
The Emergency Department features 30 private rooms and a skilled team of board certified emergency physicians, certified emergency nurses, paramedics and physician assistants. The stylish and cozy waiting area was designed to help minimize the stress associated with an ER visit. The Emergency entrance is located in the back of the hospital and offers convenient parking and wheelchair access.
Additional Information Related To This Image:
---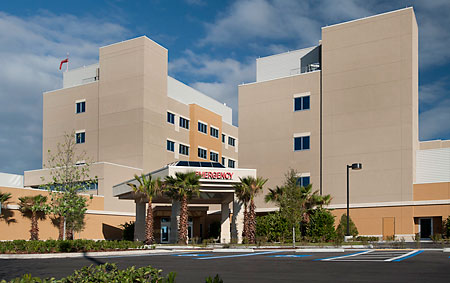 Emergency Room Entrance
Follow ER signage to entrance, located on south side of the hospital.
Photo Courtesy of Michael Peck
---

Nurses' Station
The main nurses' stations are located near the guest elevators and provide full view of our patient corridors. Additional nurses' stations and supplies are strategically located on each hallway to allow our clinical team to remain in close proximity to their patients. Dedicated patient elevators and hallways ensure privacy while accessing other service areas.

The clinical team at Medical Center of Trinity is engaged in quality initiatives which promote and optimize patient satisfaction and clinical efficiency. To learn more about our patient safety initiatives, visit www.MedicalCenterTrinity.com
Patient Room
Medical Center of Trinity offers 100% private patient rooms featuring a high-definition, flat panel TV with interactive patient education programming, free wireless internet access, room service, ample storage, restroom, shower and a reclining chair for visiting family and friends.

A communication board is displayed in all patient rooms and provides information such as the nurse's name, doctor's name, as well as the therapist and housekeeper assigned to a patient room. The board also features the patient's plan for the day, key phone numbers and information on pain management. Visiting hours are at the discretion of the patient and their physician.

Mother-Baby Suite
The private mother-baby suite features all the amenities of a standard private patient room, including a restroom, shower and a reclining chair. Each room has a bassinet where the baby can remain the entire time.

Birthing Suite
The private labor and delivery rooms allow mothers to give birth in a warm, home-like setting complete with the standard patient room amenities including a high-definition flat panel TV, ample storage, restroom, shower and a reclining chair. At the time of delivery, the room is easily transformed allowing mothers to give birth in the same bed in the privacy of their own room.

The Obstetrics Department features a comprehensive clinical staff including a Family Education Program with classes on childbirth preparation, family and friends infant CPR, breastfeeding and newborn care. To learn more about Obstetrics at Medical Center of Trinity, visit www.MedicalCenterTrinity.com.

Gift Shop
The gift store at Medical Center of Trinity is conveniently located in the main lobby of the hospital and features a large selection of gifts, convenience products and a broad assortment of medical products to support patients at Medical Center of Trinity. Our product selection includes:

Flowers and greeting cards
Health & beauty products
Aromatherapy and relaxation products
Large selection of get well plush animals
Unique and innovative gifts
Link back to Medical Center of Trinity