Childrens National Medical Center - Virtual Tour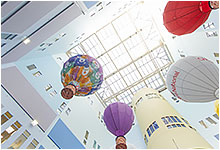 Welcome to this 360 virtual tour of Children's National. Take a look at some of our spaces and learn how we help kids grow up stronger. We look forward to caring for your child and your family.

Costco Wholesale Atrium
The Costco Wholesale Atrium serves as the heart of Children's National – the place where you can obtain your visitor's badge, get directions and information, visit the coffee bar, withdraw cash and fill a prescription. The Costco Atrium also hosts special events throughout the year, including celebrity visits to Seacrest Studios, the First Lady of the United States reading to patients, and visits from adorable zoo animals.
Additional Information Related To This Image:
---
Seacrest Studios
Established by the Ryan Seacrest Foundation in 2015, Seacrest Studios at Children's National makes every child feel like a star. The studio space gives your child the opportunity to explore radio, television and social media, as well as to participate in entertaining programs that are broadcast directly to the patient rooms. Since opening, we've welcomed more than 6,000 visitors and hosted celebrity guests including Ryan Seacrest, Olympic swimmer Katie Ledecky, singer Robin Thicke and actress Lucy Hale.
Learn more about
Seacrest Studios
.
---
---
Pharmacy and Gift Shop
The Walgreens pharmacy in our main atrium offers families the ability to pick up prescriptions right in the hospital, saving you an additional trip and getting you home faster. In addition to filling your prescription, our pharmacy has pharmacists and pharmacy technicians available to answer any questions you may have about your child's medication. Toiletries, balloons, cards, toys and healthy snacks and beverages are also available.
---

Global Services
Facilitating the treatment journey for international patients and families for over two decades, the Children's National Global Services Division is a multilingual team well-versed in the cultural, linguistic and religious needs of many different countries. When you and your family travel for care, Global Services provides you with the highest level of dedicated support to manage medical services and all related care needs, at every step of the treatment journey. We strive to make your stay at Children's National as comfortable as possible by helping you feel more at home and bridging any cultural gaps.

Learn more about how Global Services can facilitate your treatment journey.
Additional Information Related To This Image:
---
Living/Play Area
During your visit to Children's National, you are welcome to stay in our scenic living/play area during business hours. Toys, games and arts and crafts are available for your children and you have access to our seating area, coffee service, television and private meeting/call rooms.
---

The Washington Nationals Diabetes Care Complex
Home to one of the largest pediatric diabetes programs in the country, the Washington Nationals Diabetes Care Complex features state-of-the-art outpatient treatment rooms and an education center for patients and their families. In the education center, you can participate with your child in simulation labs to learn about proper nutrition and physical activity.
Additional Information Related To This Image:
---
Gym
Our team will work with your child to promote healthy and safe exercising in our gym. Our gym has a variety of exercise machines and equipment that your child will have access to as a patient in our diabetes program. In addition, a demonstration kitchen provides you with healthy cooking classes and hands-on education about cooking for a child with diabetes.
---

Family Waiting Rooms
Our waiting rooms provide you and your child with a clean, comfortable space to make you feel at home while you wait to be seen. More than just a standard waiting room, our rooms support our family-centered approach to care, relieving many logistical challenges families may face and providing psychosocial support. While there are toys and televisions for your child while he or she waits, there are vending machines, microwaves, free coffee and a business center with computer access while you wait. Additionally, select waiting rooms also have parent showers and laundry services to help with your inpatient needs.

Child Life Playroom
At Children's National, our team of Child Life Specialists creates a positive experience for your family by providing psychological preparation for medical procedures, as well as emotional support before, during and after treatment. In our Child Life Playroom, our specialists provide therapeutic play experiences to minimize stress and anxiety through interactive experiences, arts and crafts, toys, games and small electronics. Our specialists are also trained to provide support specifically for teens – our Teen Rooms provide a safe space free from medical procedures and feature videogames, television, books and other age-appropriate activities.

Discover how our Child Life Specialists help ease the anxiety of children and their families

The Bunny Mellon Healing Garden
For many of our patients, their serious illnesses cause them to have very limited access to fresh air and the outdoors. Thus, the Bunny Mellon Healing Garden was created to provide a beautiful outdoor area for our patients – right at Children's National. Named for late philanthropist Rachel "Bunny" Lambert Mellon, our spacious, 7,200-square-foot rooftop garden is open year-round from 8:00 a.m. to 8:00 p.m., and gives families dealing with health challenges a peaceful space to connect with nature and renew their spirits. Your family can relax at our soothing water feature, walk through our labyrinth for meditation and calming, or simply enjoy trees, flowers and a variety of plants and shrubs.
Cafeteria
Children's National is dedicated to providing fresh, healthy and delicious food to families, visitors and staff. There are several options for dining at our hospital, with the main cafeteria on the 2nd floor being the largest. In addition to Grab 'N' Go food stations serving entrees, salads and sandwiches throughout the day, there are also beverages, prepared foods, snacks, fruit and ice cream available. Families staying at the hospital can order meals when they're ready to eat through our Dining On-Call automated room service.

Additionally, our vending machines offer both hot and cold foods, snacks and beverages 24 hours a day, 7 days a week. They're located in the main cafeteria seating area, the Emergency Department waiting area and family waiting rooms on floors 3 and 5. Microwave ovens are featured in and around vending areas to warm your food.

SkyBear Air Transport
Children's National is the only hospital in the Washington, D.C., area with a rapid air transport system dedicated exclusively to children. We transport more than 5,000 children each year, many of them newborn babies coming to our neonatal intensive care unit (NICU). The landing pad for SkyBear connects directly to two entrances at the hospital, one of which is dedicated to babies being transferred to the NICU.

Our physicians, nurses, paramedics, respiratory therapists and emergency medical technicians (EMT) are all specialty-trained in transport medicine for children, and work with pediatric-sized medical equipment.

We're ready to help – 24 hours a day, 7 days a week – and will coordinate all aspects of the transport and intake process with your referring physician. Please note that in the event of an emergency, please do not try to contact us directly – always call 9-1-1.

Neonatal Intensive Care Unit
Ranked number one in the country by U.S. News & World Report, our neonatal intensive care unit (NICU) offers the highest level of care for premature and ill newborns. As one of the region's few Level IV NICUs, we care for more than 800 tiny patients each year, providing us with extensive knowledge for treating the most complex cases.

Your baby will receive personalized care in our NICU in a facility specially-designed with parents and their babies in mind. You're able to see your baby at any time in a space with sound-proof flooring, indirect lighting, comfortable rockers and sleeping couches.

While your baby's health is our focus, the emotional and physical health of your entire family is important to us as well. We provide extensive resources to support your family, including breastfeeding assistance, child development specialists, bonding resources and help with transitioning home.
Additional Information Related To This Image:

Diagnostic Imaging and Radiology
Though adults are generally familiar with X-rays, MRIs, CT scans and other forms of imaging, it can be a very scary experience for children. To allay the fears and concerns of our young patients, our Diagnostic Imaging and Radiology suite was created specifically for your child's comfort, with an ocean theme that calms and soothes during scanning procedures.

Additionally, our scanners have larger openings to increase your child's ease, and while our radiologists use state-of-the-art equipment, they're able to use the lowest doses of radiation required to obtain excellent image quality, making it the safest possible experience for your child.
Additional Information Related To This Image:
---
Whale Image
The whale image is more than just a pretty picture – it serves as a way to explain to children the imaging experience. The following aspects of imaging are represented on the whale:
Line on the bottom right = the electromagnetic spectrum
Line on the left = radio waves, which are used for MRI
Rainbow in the middle = visible light, which is used in optimal imaging
Two whales, one big and one small = the parent/child relationship and the provider/patient relationship
Ocean surface and what lies beneath it = imaging tells you what is happening inside your body
---
Link back to Childrens National Medical Center