Cedar Crest College - English - Virtual Tour


At Cedar Crest College, we are an established front runner of exceptional education, creating the next generation of confident learners and leaders. We empower our diverse student body – young women, adult undergraduate, and graduate students – to hone their skills and realize their potential, reaching for bolder and braver goals. Join the Cedar Crest family and experience transformational learning for an empowered future.

See a Spanish Version or Chinese Version of this tour.

Blaney Hall
Situated in the center of campus, Blaney Hall – our iconic administration building named for the College's 11th president – is often the first stop on a student's Cedar Crest journey. The Admissions offices for both the traditional undergraduate women's college and the School of Adult and Graduate Education are housed within its stately walls. It also includes the President's and Provost's offices, Student Financial Services, Alumnae Affairs, classrooms, and other administrative departments.
Additional Information Related To This Image:
---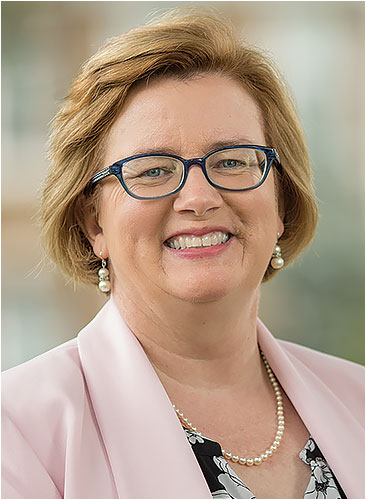 Meet President Meade
Dr. Elizabeth M. Meade became the fourteenth President of Cedar Crest College on July 1, 2018. Dr. Meade, who has been a member of the Cedar Crest faculty since 1993, was named Interim President in July 2017. Prior to that, she was the College's Provost for a five-year period and previously served as Acting Provost and Chair of Cedar Crest's Department of Humanities.

During her tenure as Interim President, Dr. Meade has been instrumental in leading the implementation of the College's recently approved strategic plan, advancing programmatic areas, and showing a commitment to disciplined fundraising that is refreshing. She also recently began a $5.2M renovation of the student center and a residence hall, along with a branding initiative for the College to proudly declare its identity as a 21st century women's college.

Dr. Meade earned her master's degree in philosophy and Ph.D. in philosophy from Boston College and earned a bachelor's degree with distinction in German language and literature from Bryn Mawr College. She is married to Arturo Perez who is a software engineer with Cisco Systems. They have three children.
---

The Quad
The Quad is at the heart of Cedar Crest's campus and is a popular spot for studying, reading or meeting up with friends. The grassy area begins in front of Blaney Hall, and is surrounded by Hartzel Hall, the Allen House, Cressman Library and three of the college's residence halls. The Quad features a gazebo and a bell garden, a perfect place to relax and reflect. Our 84 acre campus is also a nationally registered arboretum, with hundreds of tree species from all over the world.
Additional Information Related To This Image:
Tompkins College Center
The Tompkins College Center (TCC) is one of the busiest buildings on campus. In addition to housing the college's dining facilities, the TCC is also where you'll find the Career Planning Center, bookstore, Performing Arts department, and a number of conference spaces and lounges.
Additional Information Related To This Image:

Canova Commons
Hungry? Hit up the Canova Commons in the TCC for all-you-can-eat breakfast, lunch and dinner. There's something for everyone: from traditional comfort food to vegan and vegetarian options, and everything in between. In a hurry? Swing by the Falcon's Nest on the second floor for grab-and-go sandwiches, snacks and coffee.

Samuels Theatre
Samuels Theatre is located on the second floor of the Tompkins College Center. Fully equipped as a venue for main stage productions, this recently renovated, 250-seat theatre hosts all major Cedar Crest theatre events, as well as dance performances and special lectures.
Additional Information Related To This Image:

Lees Lawn
Situated between the Tompkins College Center and the Rodale Aquatic Center is a complex of interconnected buildings that house academic, athletic, and artistic spaces. Click on each building to learn more.
Additional Information Related To This Image:
---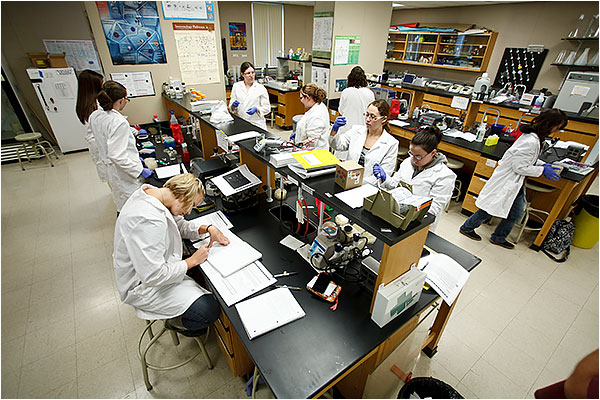 Pool Science Center
In addition to classrooms, you'll also find instructional and research facilities for biological sciences, chemistry and physics, with laboratories for course-related and independent work.
---
---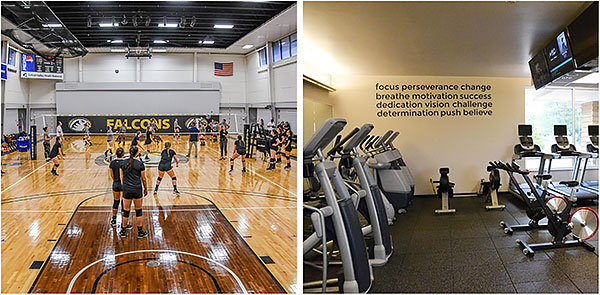 Lees Hall
This is where you'll find the gymnasium, athletic offices and the fitness center.
---
---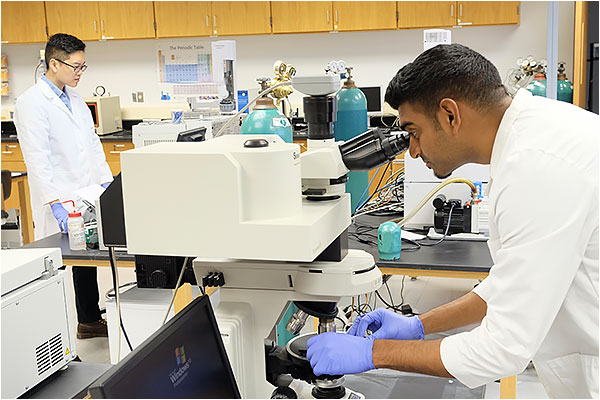 Oberkotter Center for Health and Wellness
This 10,000 square foot facility includes classrooms, a forensic science-biological science lab, a biochemistry lab, and a student lounge.
---
---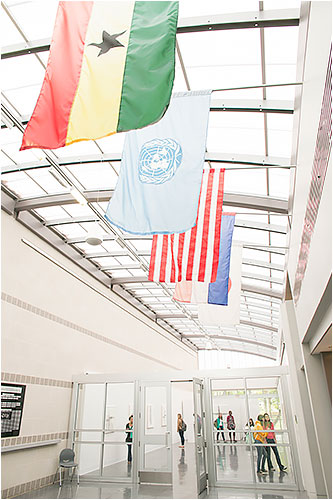 Harmon Hall of Peace and Center for Visual Research
Harmon Hall, often used for campus events, includes a mural of the United Nations Universal Declaration of Human Rights.
The Center for Visual Research is an exceptional gallery space that showcases the work of artists from across the country and is open to the campus and community.
Click here to discover our current exhibition
.
---
---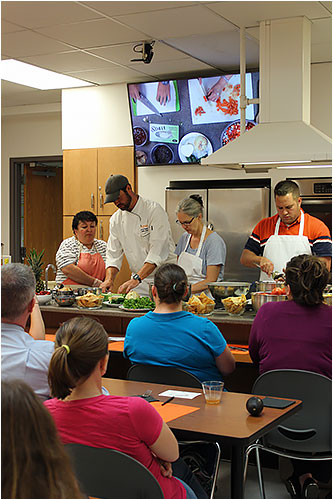 Miller Family Building
Home to classrooms and the College's renowned Allen Center for Nutrition, which is outfitted with six teaching kitchens.
---

Science Lab
Our science labs are outfitted with state-of-the-art technology and cutting-edge tools currently used by science professionals in the workplace. Small class sizes mean students will get plenty of hands-on experience, and many of our students participate in research projects starting as early as their first year.

Learn more about our laboratories and equipment here.
Additional Information Related To This Image:

The FalconPlex
The FalconPlex includes a field house complete with locker rooms, a press box and a V.I.P. viewing deck. The all-year turf field is used by the college's soccer, field hockey and lacrosse teams. Go Falcons!
Additional Information Related To This Image:

Alumnae Hall
Alumnae Hall includes several classrooms, art studios, Alumnae Auditorium and the Capstone Gallery, which features student art exhibitions. On the lower level, you'll find the Little Theatre, which serves as an experimental space for student productions and recitals.
Additional Information Related To This Image:

Hartzel Hall
One of the first buildings erected on campus, Hartzel Hall contains faculty offices for the Department of Communication and for the Department of History, Literature, and Languages. It also includes a language laboratory, the honors program center, a multimedia room, a student lounge, a ceramics studio, and a paper-making studio.

The Allen House
The Allen House – which originally served as the president's residence – was fully renovated in 2017 to include the Center for Diversity and Global Engagement. The new space is home to the Center for Diversity and Inclusion, the Office of Global Initiatives and International Programs, International Student Services, and ESL support services. The renovations also added new classrooms, offices, lounges and group study areas to the building. Outside, banners representing the home countries of our diverse student body are on display.

Cressman Library and Student Success Center
If you need to do some serious studying, Cressman Library is the place to be. With more than 120,000 print volumes and nearly 160,000 e-books, finding resources is a breeze.

On the main level, the Student Success Center provides a one-stop shop for student services including Academic Advising, the Writing Center, and professional and peer tutors to help you with your studies. There is also student collaboration space, technology-enriched study areas, and a centralized information station. Or, you can relax with a book in the lounge area and take in the sweeping views of Cedar Beach Park.
Additional Information Related To This Image:

Residence Halls
When you live on campus, your residence hall is your home away from home, and we work to make sure your stay on campus is as comfortable as possible. Our three main on-campus residence halls – Moore Hall (pictured here), Steinbright Hall and Butz Hall (Curtis Hall also has rooms available for our Honors students) – are all equipped with study areas, vending machines, a laundry room with free high-efficiency washers and dryers, and kitchen facilities. Cable and internet access is available in each room and Wi-Fi is available throughout the buildings.
Additional Information Related To This Image:

Curtis Hall Collaborative Classroom
Curtis Hall is home to our Mathematics, Education, Psychology and Business Departments, as well as our Social Sciences programs. Collaborative classrooms that allow for interactive discussions, computer labs, and a variety of college services are among the features of this building. Curtis Honors Hall occupies the top level of the building, with housing available for students participating in the Honors program.
Additional Information Related To This Image:

Hamilton Boulevard Building
The School of Nursing is located in the Hamilton Boulevard Building (HBB) and includes state-of-the-art multimedia labs with highly specialized simulation manikins and functional hospital equipment for both undergraduate and graduate nursing students to hone their clinical skills.

The building is also home to our growing Health Sciences Department which offers bachelor's and master's programs. In addition to classroom space, students can utilize the exercise physiology lab for research.
Additional Information Related To This Image:
Link back to Cedar Crest College - English